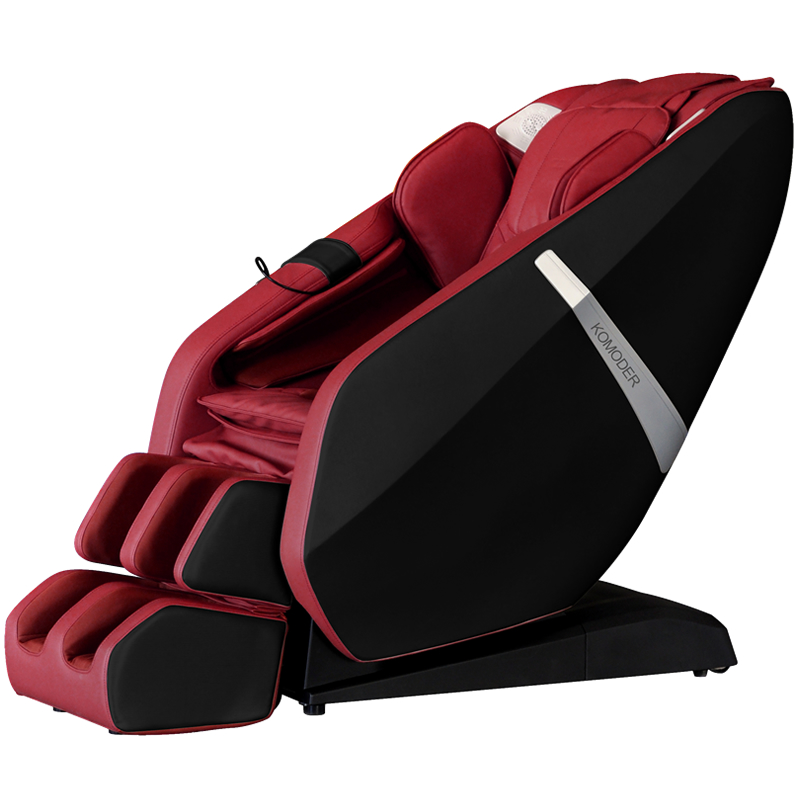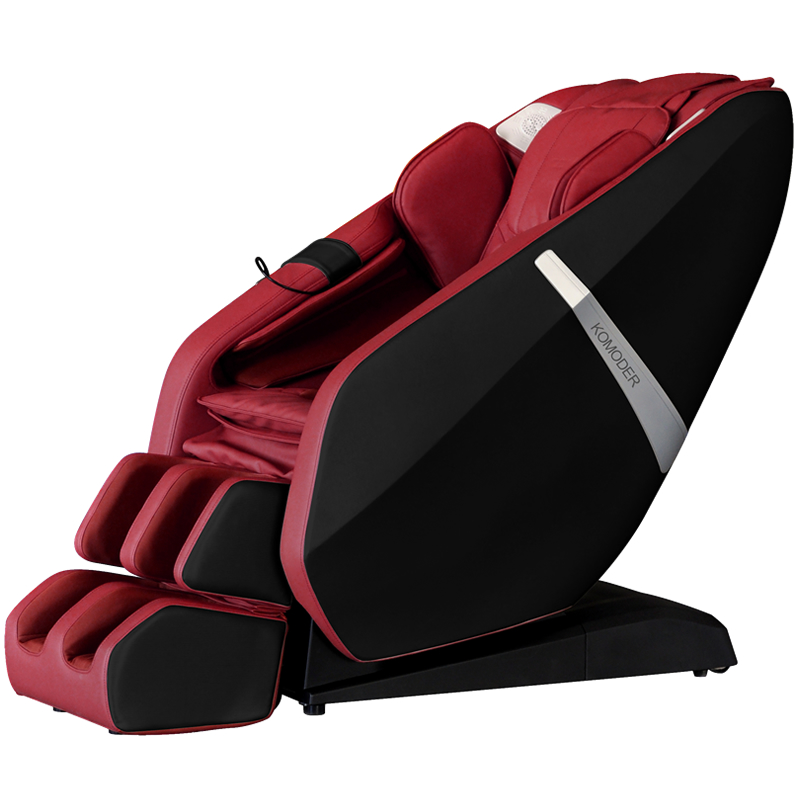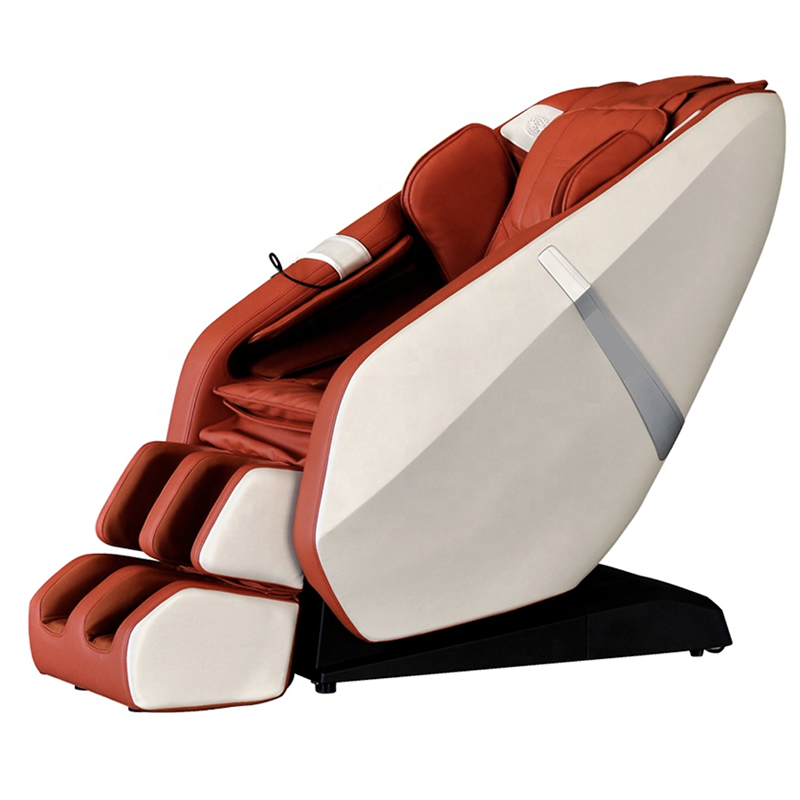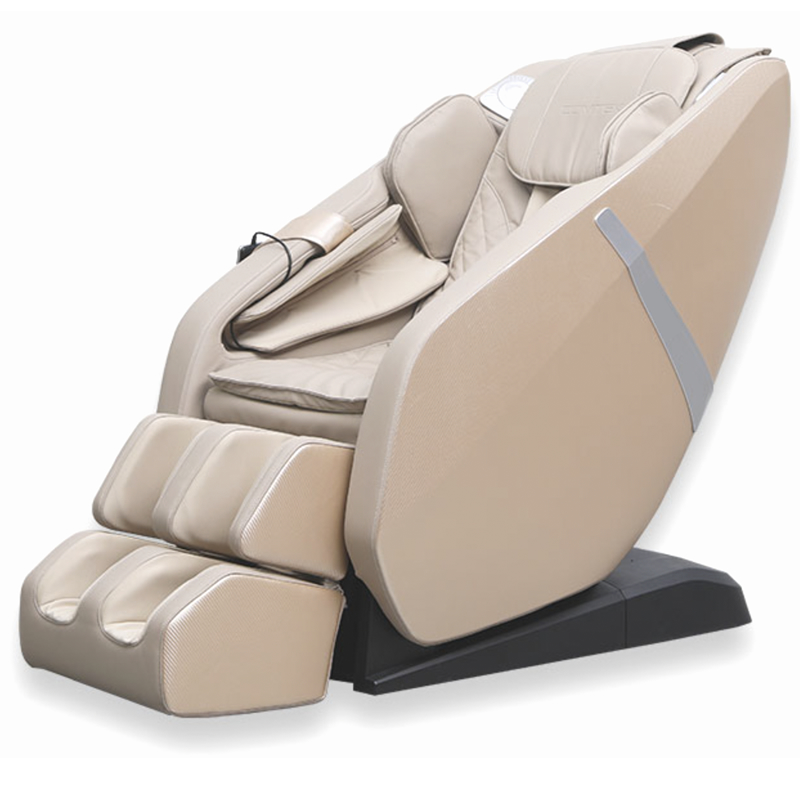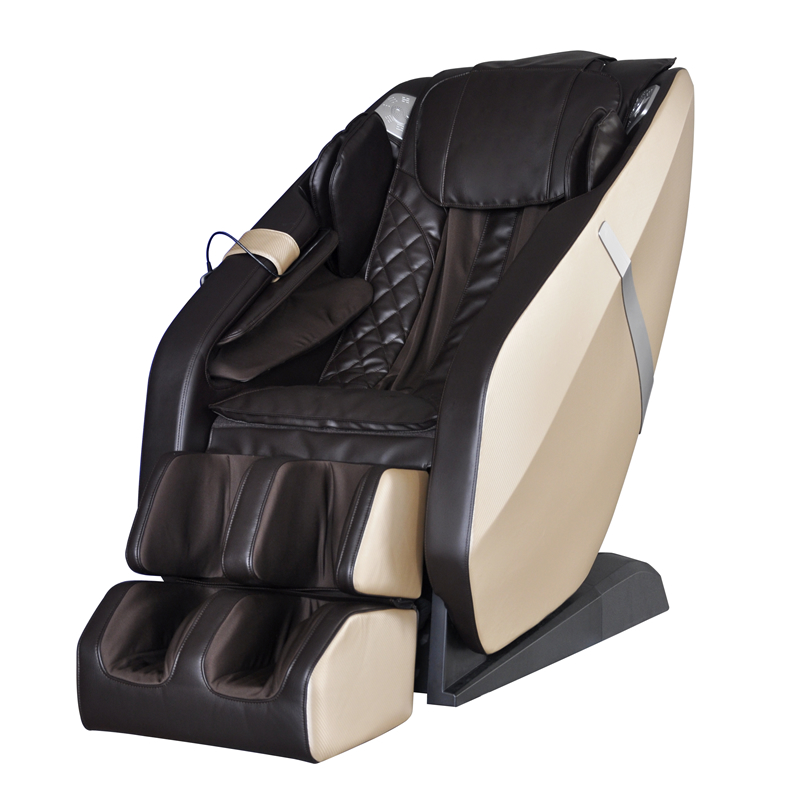 | | | | |
| --- | --- | --- | --- |
| 3D massage rollers | Bluetooth Speakers | Zero Gravity System | Back heating |
| Intelligent scanning mechanism | Forward sliding system to save space | Reflex therapy (foot massage) | SL massage cushion 130 cm |
Massage from neck to feet.
This new massage chair is able to adapt to the characteristics of the human body and contains the following functions and possibilities: zero-gravity, zero-wall technology, full body massage with air cushions, 130 cm SL-track massage, guasha rollers for the soles and a bluetooth audio system for music. This Komoder massage chair gives you the ultimate massage experience in your home and helps you stay healthy and active every day.
Full body massage.
Thanks to an innovative function, the air pump can work synchronously and continuously, to provide the necessary power to all air cushions that will massage you. Both the relaxation massage and the strong pressure of the air cushions are precise and unique, so that you can enjoy a refreshing, soft or deep massage.
The footrest is extendable. Perfect for tall people.
The massage chair comes with an updated version of the footrest compared to earlier models of this massage chair. This is a completely new design, intended to offer more comfort to tall users up to approx. 195 - 200 cm. This makes Everest an ideal massage chair for tall users who need extra leg space.
Audio system. Built-in speakers. No cables through the house
You can use a smartphone or tablet to play music.
Connect your phone, tablet or laptop via Bluetooth to the speakers on the massage chair. The massage chair is equipped with a set of speakers that are built into the backrest and via the Bluetooth connection you can listen directly to your favorite music from your mobile phone.
BOOK NOW FOR A TEST IN OUR SHOWROOM

Our agent will contact you as soon as possible to set the date and the time of your trial.

BOOK AN APPOINTMENT
The massage chair scans your body and adjusts itself intelligently
The new Everest is equipped with an automatic shoulder detection system. This system performs a scan prior to each massage session to detect the height and weight of the user, so that the massage session is perfectly adapted to the contours of the body.
3D roller system
The new Everest massage chair is equipped with a set of silent, intelligent 3D mechanical hands that move up and down, extend forwards and backwards and also move sideways. These mechanical hands help to detect the parameters of each user: weight and height.
Infrared heating - perfect for the winter
The back heating function at 40º-50º C eliminates the cold feeling and back pain. The wavelength of the infrared rays coincides with the wavelength of the human body, so that the energy is absorbed by the human cells. This activates the cells and stimulates metabolism.
Full air pressure massage (shoulders, back, seat, arms, legs).
This function is recommended to activate bone regeneration and to eliminate muscle tension and joint stiffness so that you can maintain your health. The stretching is performed using the massage cushions for the shoulders, arms and legs.
Air cushions for shoulders, arms, legs and seat.
Everest uses capsule-like armrests, built-in air cushions and a gradual surface, so that your arms can enjoy a comfortable massage regardless of the angle of the chair. Through a combination of the air pressure massage provided by the chair on certain parts of the legs and the "zero gravity" function, your body will experience a feeling of pure comfort.
Stretch and stretch functions for the spine
This function is recommended to activate bone regeneration and to eliminate muscle tension and joint stiffness so that you can maintain your health. The stretching is performed using the massage cushions for the shoulders, arms and legs.
Foot massage. Adjustable footrest.
Depending on the height of the user, the footrest can be freely adjusted, the maximum length of the extension being 15 cm, which ensures a full-body massage regardless of the user's height.
Perfect for users of different height and weight.
This Komoder massage chair is designed for different users. With six innovative automatic massage programs that give you a personal massage, this chair meets the requirements of different users.
Reflexology. Massage that impresses.
The reflex therapy massage is performed with a small plate equipped with rollers and the footrest extends seamlessly to accommodate different user heights.

Foot massage
The footrest is equipped with air cushions for pressure massage and also contains 8 natural magnets.

Massage from neck to feet
This massage chair uses a special technology with an "L" -shaped rail and is the result of a long-term study in combination with the latest knowledge in the field. The massage range of the chair is 130 cm and extends close to the knees. This allows you to enjoy a personal massage from head to toe.

Foot massage. Experienced as very pleasant by the people who tested it.
It simulates the touch of the human hand and has advanced rolling technology. This gives you a Guasha massage that feels like it is being performed by a professional masseur. With a range of 3 cm and focused on the Yongquan point on the sole, the massage offered can be delicate and constant, but also powerful, depending on how you set it on the remote control.

Foot massage with air cushions
Airbags of different sizes wrap around your calf, ankle and foot and offer you a triple experience that you will never forget. Apply this method, which in turn activates the air pressure compression, pause and evacuation function to stimulate the Xuanzhong and Taixi acupoints. This ensures perfect comfort and harmony.

Magnet therapy
The magnet therapy performed with 8 accurately placed permanent magnets of 300 cc can improve the low magnetite level in the body by stimulating the Chengshang and Zhonmai acupoints on the calf.

Back massage range
The intelligent mechanical massage hands can move up and down on the neck, shoulders, back and waist. They can automatically induce the specific curve of the human back. It has a width range of 21 cm and a back range of 130 cm and is therefore able to cover the entire back.

This massage chair recognizes your back
The S-shaped curve that supports the body comprises a combination of back massage structures and technical design principles for the human body, so that you can enjoy a highly accurate back massage. The width can be adjusted from 6 to 21 cm and has three width options.

Arm massage with air cushions
Equipped with 12 airbags that follow the curves of the human upper arm, this massage chair offers a massage that covers the entire arm. The massage acts on the Yangchi and Quchi points. The balanced 3D traction that occurs in the air-filled cushions will strengthen your arms and palms.

Massage on the entire back surface
| | |
| --- | --- |
| Whole back massage | Yes |
| Electrically adjustable backrest | Yes |
| Air cushions in the seat | Yes |
| Air cushions in the leg area | Yes |
| Roll massage | Yes, 3D |
| Air cushions | Yes. Full body |
| Air pumps | Yes |
| Massage for the seat | Yes |
| Massage and relaxation position | Yes |
| Leg massage | Yes |
| Reflexology | Yes |
| Foot massage | Yes |
| Remote control | Yes |
| Upholstery | Ecological, antibacterial leather. |
| Weight massage chair (kg) | 110 kg |
| Maximum user weight (kg) | 130 kg |
| Power supply | 220 - 230V |
| Dimensions | |
Request the Price List. Free Shipping for all orders.
FOCUS II - Experience the services of a restless massage specialist who masters 12 automatic programs and 6 massage tehniques
Discover the brand new FOCUS II
Thank you Komoder!
- from
Noël van 't End - World Judo Champion / Rotterdam
After heavy training, nothing is better than a good and firm massage to recover, that I can now do that at home is very nice. The combination of a full body massage and the heaviest intensity level greatly helps my recovery so I am ready for the next tournament! The difference between a Komoder and other chairs is, in my experience, that the Komoder chair can touch the muscles much deeper, which is perfect for sports massage.
What an absolutely amazing product that I would not hesitate to recommend to anyone!
- from
Wendy Gill / Inverness, Scotland
I was the lucky recipient of an ( EVEREST) KOMODER MASSAGE chair, from my wonderful son and his family, for my 60th Birthday. I have experienced every type of massage, with varying degrees of success and satisfaction. However, with this chair I no sooner find a favourite programme, when another appears ! The chair itself is compact and made of soft, good quality material, easy to clean.It is a dark red colour, which blends effortlessly into my colour scheme. The automatic programmes are well planned and easily accessed through the intuitive handset, which is easy to navigate.If you ever exhaust the Automatic options, then an infinite array of manual settings are available to customise your massage experience.The only downside is that I find it so, so difficult to come back down to earth at the end of a session, and would happily stay on it all day !!
The perfect fit for me and my budget
- from
Karan / London
Quite a task to find a good chair with a small budget these days. I was happy to be able to test before purchase and most of all happy that Komoder delivered and installed my chair without any other cost.
I am very happy with the chair!
- from
Lisa / Sweden
After having telephone and email contact with Paul and receiving a description of different chairs, I decided to get the Everest massage chair. The chair was transported by appointment, nice and service-minded guys carried it upstairs, installed and informed me about how I would use the chair. Paul has since been available via email and phone and kindly answered all my questions. I am very happy with the chair! In addition to the automatic programs, I can customize different massage methods according to my own wishes and desired program length. So good to be able to have a massage at home when it suits me without having to make an appointment! I highly recommend the Komoder company the service has been perfect!
Average rating:
5
out of 5, based on
4
review(s)
Proper Storage
We have many warehouses across the Europe
and we store your chair in perfect conditions.
Safe handling
The massage chair is loaded mechanically,
with love and care.
We provide free shipping
In most cases, we transport the massage chairs
in our own vehicles, using our employees.
Handling and Assembly.
We have installed the chair.
Enjoy your massage!
Leave your details and we will call you as soon as possible.
Please fill in the form and one of our consultant will contact you as soon as possible to identify the model of the massage chair that fits your needs. Our specialist will take into account the height and weight of the future massage chair users.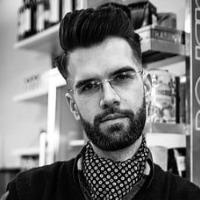 ALEX - Sales Agent
Online Dept.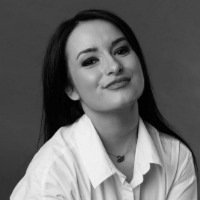 Call us now