Massage Chairs London, UK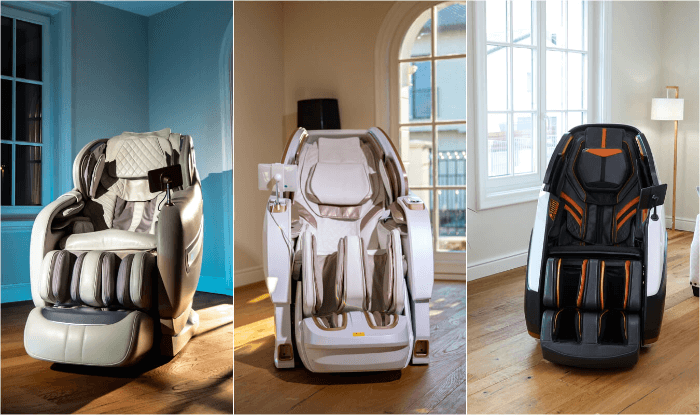 Massage chairs have come a seriously long way from their early beginnings. In fact, the best massage chairs for sale in London today combine the latest developments in technology and design for unprecedented levels of comfort.
Think of them as the most worthwhile purchase you'll ever make - and the one which can have the biggest impact on your health, too. In fact, regular massage has been proven to treat all kinds of disorders, from anxiety, stress, and insomnia, chronic back pain, high blood pressure and tissue injuries. And to have unlimited on-demand massages, in the comfort of your own home? Now, that's true relaxation.
So, if you're ready to upgrade your wellness like never before, here's your guide to some of the very best entry-level massage chairs in the UK right now.
FOCUS II massage chair
Also offering a proprietary user scan and built-in airbags for a glorious full body massage, with the Focus II massage chair, you'll be treated from top to toe, literally, as it also features a reflexology function - using reflex point therapy on the soles of the feet to stimulate nerve endings and deliver cozy relaxation like never before.
VICTORIA II massage chair
Want a deep all-over massage, from your shoulders to your calves, and beyond? Then this model is for you. Using the latest in airbag massage technology, the Victoria II massage chair completely wraps around your legs and feet, with a specialised calf kneading functionality, for an unrivalled reflexology massage. Whether you spend long periods of time on your feet, enjoy walking or simply love the benefits of an acupoint-focused massage, this is an ideal massage chair to come home to. It also comes with eight automatic programs - to have the perfect massage on hand, no matter your changing needs.
Select any of these massage chairs and the above will be just the start of your at-home massage experience. For starters, Komoder only trades in long and ultra-long rails and 3D, four roller designs, unlike lesser brands which only use old-style non SL and two-roller mechanisms. This upgrade makes for full, long sweeping strokes and a smooth all-over massage using only the latest technology.
Then, all of Komoder's massage chairs also come with at least four rollers to the back and four rollers to the legs, and back heating - as well as offering a preliminary body scan of each user, to deliver a custom experience centred around your unique needs and body type.
Not only do they offer the massage therapy features listed above, but these models also all boast a built-in Bluetooth audio system, space saving design and zero-gravity technology. Plus, they come with Komoder's leading expertise and unparalleled service, complete with a three-year warranty, after sale servicing for five years, and free white glove delivery and installation - so all you need to do is sink into your sumptuous new massage chair and relax.
Are you ready to take your comfort to the next level with your own massage chair? Head to Komoder, the UK's leading massage chair seller, find the perfect high-end massage chair for you by browsing the full range in the UK, view massage chair prices to fit all budgets, and to arrange a visit to our London showroom to try them for yourself.