Komoder UK C30 leg massager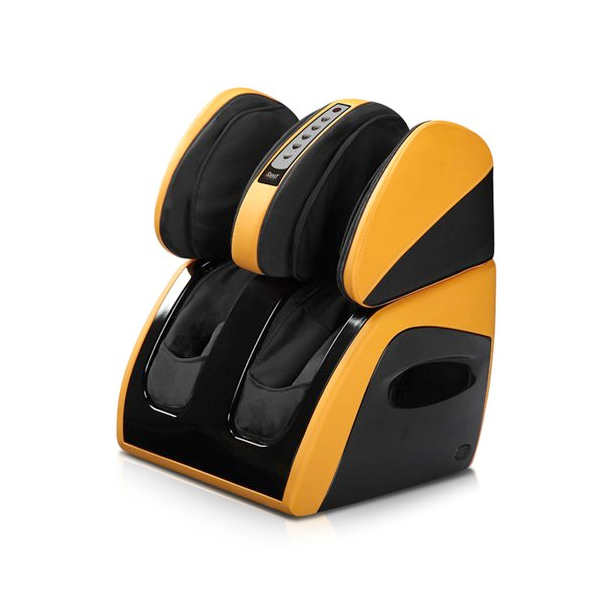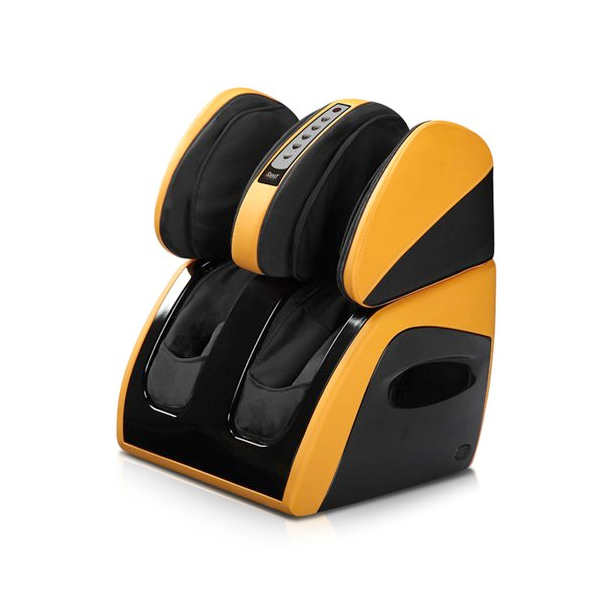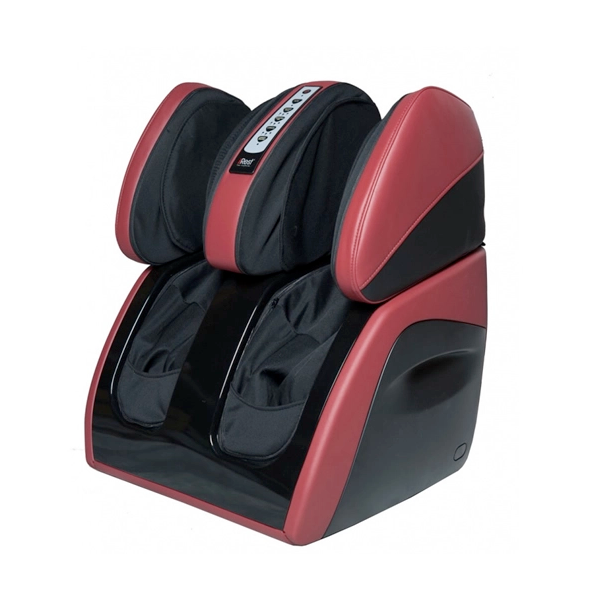 | | | | |
| --- | --- | --- | --- |
| 3 Heating Levels | Calf Airbags | Knee Airbags | Soles massage rollers |
| 3 massage speed levels | 3 pressure levels for airbags | 3 intensity levels for the soles massage rollers | Reflexology |
Komoder C30 feet massager
Komoder C30 massage device uses advanced Komoder technology, offering the user a great three-dimensional (3D) massage.
With C30 your legs, knees, calves, and soles will experience the most relaxing and refreshing massage session.
The Komoder C30 with heating works at three different speeds, has a predefined program and allows the adjustment for an additional knee massage system, providing exactly what the user wants extreme relaxation. All the settings can be done using the built-in remote panel.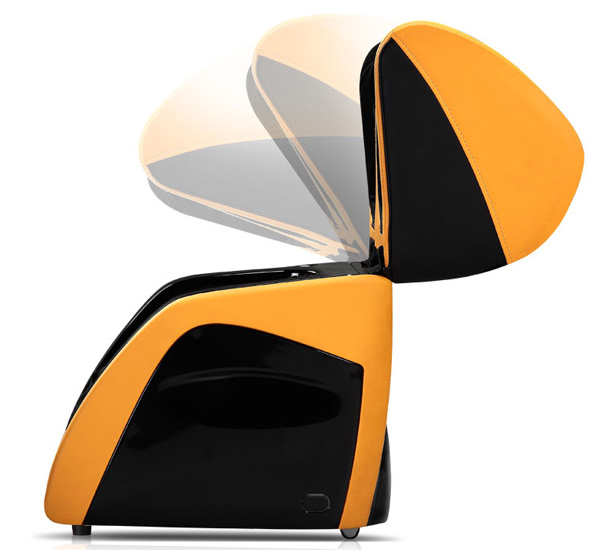 1. Predefined massage session
Mimicking the movements of a professional masseur this massage program will surely remove discomfort from your feet with its revitalizing effect.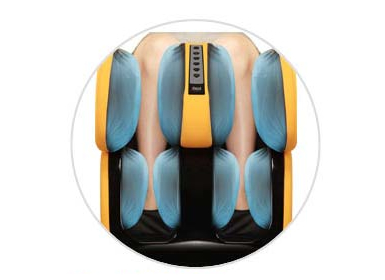 2. Legs, knees and soles massage
Whether you want legs, knees or soles massage C30 massage device can be positioned accordingly. The upper part of the massager is mobile.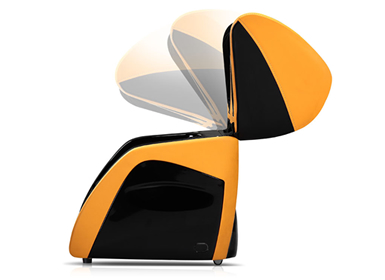 3. Foot massage rollers
Featuring 20 massage rollers, the Komoder C30 uses reflexology for a more immersive massage experience. Stimulating each pressure point, the massage rollers are the best tool for improving blood circulation and revitalizing your body. You can opt between 3 adjustable intensity levels that will surely suit your needs.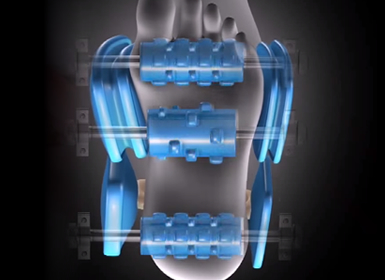 4. Airbags for your calves
Using an advanced airbag massage technology C30 provides an experience superior to any other massage device. You can opt for 3 adjustable intensity levels to suit your needs.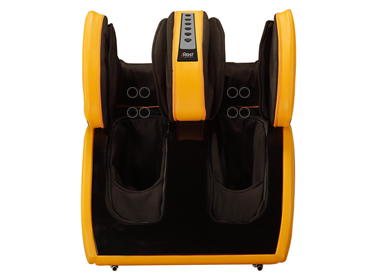 5. 3 massage speed levels
The massage intensity can be controlled for maximum comfort, the device uses 3 massage speed levels. C30 can be rotated or locked in any position.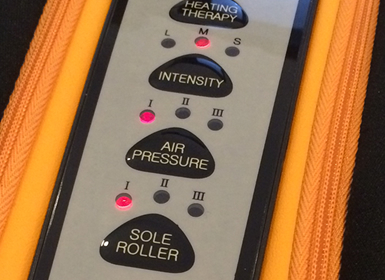 6. Built-in control panel
Set your device quick and easy using the built-in control panel.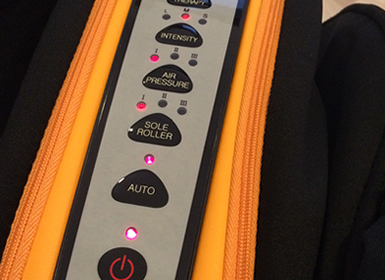 Leg Massager with Knees therapeutic heating system
C30 is equipped with a heating system that is activated by pressing the HEATING THERAPY button. The system uses carbon fiber heat technology.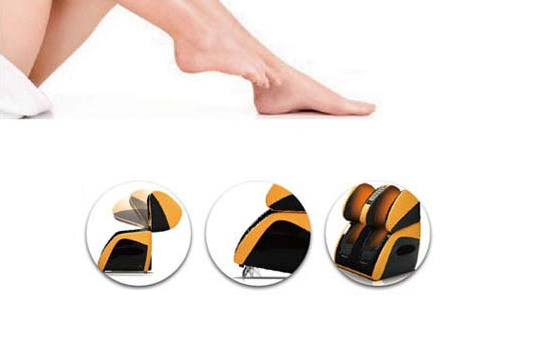 Komoder C30 Specifications and technical characteristics
Predefined massage program

1

Rotation

360°

Upholstery

Synthetic leather

Massage airbags

30

Massage speeds

3

Heating

Yes

Timer

15 minutes

Height

60 cm

Weight (kg)

25 kg

Power supply

220V

Colors
The perfect gift
Komoder C30 uses additional air cushions for massaging the legs and knees. This function activates the circulation and increases your wellbeing. A combination of 30 different sizes of airbags wraps completely around your legs and knees for a more precise massage.
Using the Komoder C30 daily you will notice how your legs will be stronger, vigorous, and more relaxed. The device is recommended for everyone but especially for those who feel tired or spend a lot of time standing.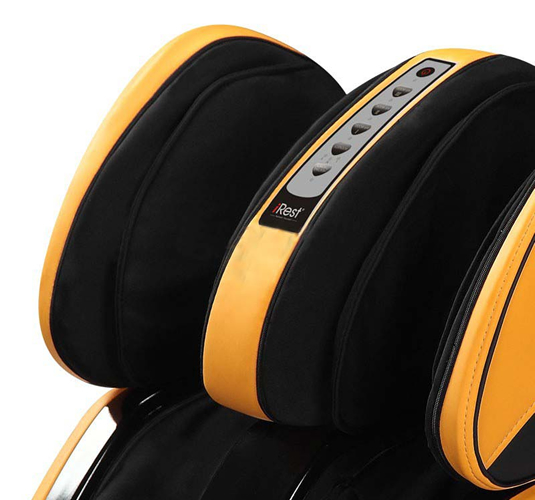 Komoder C30 Leg Massager FAQ
How to massage legs ?
To massage your legs effectively, use long strokes and kneading motions, target tense or sore areas, and relax your mind. But for an easy and effective way to massage your legs, consider using a foot massager. These devices offer targeted relief and come in a variety of styles with adjustable settings.
Do leg massagers really work ?
Yes, leg massagers really work! They are designed to provide a variety of benefits such as improved circulation, reduced muscle soreness, and increased relaxation. Additionally, studies have shown that using a leg massager regularly can lead to improved athletic performance and faster recovery after exercise. So, if you're looking to improve your overall health and wellness, a leg massager is a wise investment.
How often should you use a leg massager ?
You should use a leg massager as often as necessary to achieve the desired results. If you're using it for recovery after a workout, using it daily can be beneficial. However, if you're using it for a specific condition or ailment, it's best to consult with a healthcare professional to determine the appropriate frequency.
Do leg massagers help circulation ?
Absolutely! Leg massagers are designed to improve blood flow and circulation, which can provide numerous health benefits such as reducing swelling in the legs, decreasing pain, and promoting faster healing. So, if you're looking to improve your circulation or relieve swollen legs, a leg massager is a must-have!
Is it good to use leg massager everyday?
Yes, it's perfectly fine to use a leg massager every day, as long as it's used properly and in moderation. Using a leg massager regularly can help maintain good circulation, alleviate muscle soreness, and even reduce stress levels. However, it's important not to overdo it, as excessive use can lead to bruising or other injuries.
What is the best leg massager?
Looking for the best leg massager? Look no further than Komoder UK! Their advanced technology and innovative features make them the top choice. You can customize the intensity and speed of the massage, and they're built with high-quality materials. Komoder leg massagers offer various massage techniques in one device and can even cover your back and neck. They're versatile, stylish, and provide effective relief for sore muscles, poor circulation, and relaxation. Treat yourself to a Komoder leg massager - your legs will thank you!
One of the best feet massage I ever had
Mr. Murphy
Is the first time I use a device like yours and I'm deeply impressed by what it's able to do. Also the delivery time was short and the employee was kind to explain me how to use it properly. Thank you very much!
Get Expert Advice on Choosing the Perfect Massage Chair!
Our massage chair specialists are here to guide you towards the perfect choice!