From Mr. Mats K.:
"I am very satisfied with the chair!"
"First I must tell you that I am very satisfied with the chair you sold to me. It works very well and give a good massage.
Still I have a small issue that you might can help me with.
After I bought it, I have moved to another house, and want to bring the chair to the upper floor.
Unfortunately there is a quite narrow staircase and my question to you is if it is possible to split the chair into two pieces, so i can carry it up the stairs. I have no problem with the weight of the chair. It is the size that matters.
Have a nice day! Greetings!"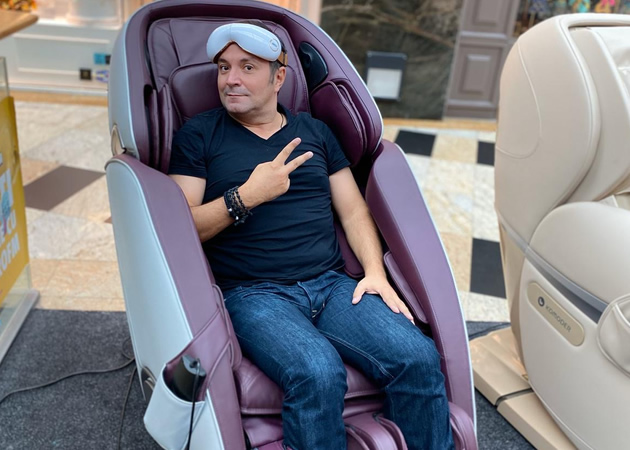 From Mrs. Anna R.:
"Excellent. Worth every penny"
"I never imagined that a massage chair could offer such an effective back massage. I can actually feel my back pain and fatigue disappear.
The price is very good and the quality of the materials is greater by far than that of the Komoder massage chair.
The chair is very beautiful and great when it comes to the massage it can offer."
Greetings from Austria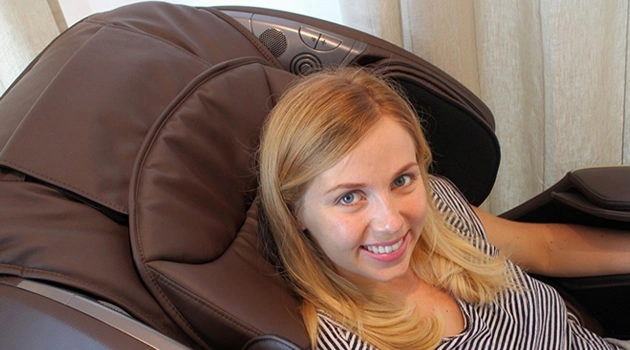 From Mr. Joseph S.: "Very satisfied. I warmly recommend this chair. You will not regret"
"I just got out of my massage chair and my first impression is that the design is very beautiful and the programs are good and useful for your back. This is a very good massage chair. I am pleased. I will get back to you with further impressions. I wish you a pleasant evening and I look forward to hearing any comments that you might have. Thanks for all the help. Happy New Year! Wishing you good health, happiness, and success in the coming year and always. "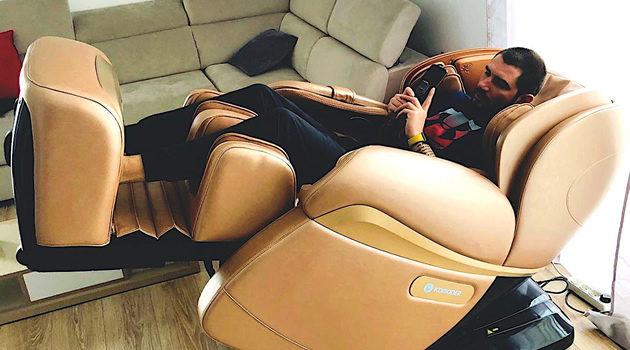 Request our Special Pricelist
FOCUS II - Experience the services of a restless massage specialist who masters 12 automatic programs and 6 massage tehniques
Discover the brand new FOCUS II
Customer Reviews. Our customer's opinion is the most important.
5 Stars!
- from
Mr. Armando / Novara
We received the chair early this morning. Fantastic service, thank you very much!
Great!
- from
Carla / UK
Buy with confidence. Excellent quality. Fantastic massage!
Very satisfied. Recommended. Very Good price.
- from
Frank / Scotland
I wanted the latest massage chair. I received my massage chair this morning. We want to thank you for everything. We have already tested it and we are very satisfied. It is very good. I will recommend you with full confidence to other people as well.
Pleased and satisfied
- from
Paulina / Czech Republic
Yes, everything is OK. The chair was installed on the scheduled date, and the power plug adapter arrived on time.
Very satisfied with the chair
- from
Martin H / Ireland
"I did some research and decided that we wanted the best chair on the market. I have some back and neck problems and I can say that after more than two weeks of using the massage chair, I feel much better and have much more energy. I chose what was more expensive because we wanted the latest model. As far as the massage is concerned, I can say it is fantastic.
I will recommend you
- from
Mr. Florin / Thun
Thank you for the confirmation. I will pay the difference, no problem. And you can be sure that I will recommend you, your company and your product. I am very happy!
I am pleased!
- from
C.C. / Denmark
Happy New Year! Wishing you good health, happiness, and success in the coming year and always. This is a very good massage chair. I am pleased.
Satisfied
- from
Dominik M. / Zagreb, Croatia
Thank you, everything went well. I am delighted with your professionalism as well as with the quality of the product. The Focus is indeed something exquisite.
Very interesting model
- from
Mr. Vaughan / Austria
Very interesting model. I recommend you this model anytime. Strong or soft massage, you can choose.
The first experience was great!
- from
Jan Larooij / Finland
Last night, the chair is brought by an extremely friendly driver. The car can not come to the door. After I came home from work, we unpacked the chair and placed. Yesterday my family has already been a first time in the chair and the first experience was great! Sincerely, Jan Larooij
Very happy with it!
- from
Elena / Sweden
I am sorry for not being able to talk to you longer... was in the meeting almost whole day. As I nentioned we have received the chair and are very happy with it:) Thank you very much!
It is wonderful! We are very happy with the product.
- from
Mr. Bjørn / Tromsø, Norway
We have started using the chair. It is wonderful!!! We are very happy with the product. I must mention that your way of handling the customer and be in constant and prompt touch is really really appreciable. It is mainly because of your excellent salesmanship that we decided to buy it from your company. Please convey my appreciation of your services to your senior management. Also, if anybody wants to try the message chair before buying it, you can definately give our reference and we will be happy to entertain him. Once again with all the best wishes and appreciation. Please keep in touch.
Good price.
- from
Martin / Huesca, Spain
I am pleased with the delivery! As for the product, I can say that it is exactly what I wanted and I am glad you called me to ask what I think of it. Congratulations on your activity.
Good quality.
- from
Mr. Levente / Debrecen
I chose this massage chair because it has heating. At the end of the day I am very happy with the chair and the massage is exactly what I wanted.
Recommended!
- from
Jules / Limoges
This is the most reliable massage chair dealer. I chose you because you supplied me with the correct information and I got a good price for the massage chair. I am glad because I have a new generation massage chair and I like its quality!
Satisfied. Recommended.
- from
Gabriel / Braga
This is the only place where you can find the whole range of Inada products. I tested this model in the showroom and bought it because the price was right as compared to other models. Highly recommended!
Recommended
- from
Mr. Elias / Amberg, Germany
Excellent massage. Very good price, and they delivered it in 24 hours. Buy with confidence!
Delighted.
- from
Mrs. Chloe / Angers, France
Good price compared to other stores. Super massage, good quality, lowest price. We especially enjoy the spine stretching massage.
Congratulations
- from
Mehdi Othmani / Budapest
I bought my chair last year and I was particularly pleased with their services, delivery and installation. Few weeks later, I accidentally broke the switcher of the chair when cleaning my house, I called Komoder and they sent immediately a technician who replaced the switcher at no cost.
Absolutely fantastic
- from
Zayna / Luxembourg
What I can say !! Absolutely fantastic chair massager, very comfortable . WOW ♡♡ I love it . Already I used it for 20 minutes oh what the great feeling and specially for my leg really need it . ♡ Thank you for your help and your advice .
Thank you Komoder!
- from
Noël van 't End - World Judo Champion / Rotterdam
After heavy training, nothing is better than a good and firm massage to recover, that I can now do that at home is very nice. The combination of a full body massage and the heaviest intensity level greatly helps my recovery so I am ready for the next tournament! The difference between a Komoder and other chairs is, in my experience, that the Komoder chair can touch the muscles much deeper, which is perfect for sports massage.
Thank you! Good Quality!
- from
Gabriel G. / Paris
Finally I received my ordered massage chair. We need to get familiar with the chair for more functions. Good Quality!
We use our chair daily!
- from
Christine L. / Brussels
So helpful in answering my questions.. Thank you Komoder for helping me choose Everest massage chair. So helpful in answering my questions. We use our chair daily!
A healing experience for body, mind and soul
- from
Mrs. Glenn / London
Few words can describe my first experience in a KOMODER massage chair, but if I were to find one, that would be: out of this world. The LUXOR chair is an excellent machine and really does what it supposes to do, take the massage experience to a completely new level, and all the magic happens right in the cosiness of my living room. Precise, completely adjustable, technologized, intense or mild, perfect for massaging my entire body after a full day at the office, or a very intense training session at the gym. A healing experience for body, mind and soul. Furthermore, the entire experience with KOMODER was a positive one, from the moment I have reached towards them, decided upon one of their chairs and placed my order, till the moment I have received my product I had all the support of the client service department at every step of the way. The delivery was in time and without any problems. I fully recommend them and their massage chairs
What an absolutely amazing product that I would not hesitate to recommend to anyone!
- from
Wendy Gill / Inverness, Scotland
I was the lucky recipient of an ( EVEREST) KOMODER MASSAGE chair, from my wonderful son and his family, for my 60th Birthday. I have experienced every type of massage, with varying degrees of success and satisfaction. However, with this chair I no sooner find a favourite programme, when another appears ! The chair itself is compact and made of soft, good quality material, easy to clean.It is a dark red colour, which blends effortlessly into my colour scheme. The automatic programmes are well planned and easily accessed through the intuitive handset, which is easy to navigate.If you ever exhaust the Automatic options, then an infinite array of manual settings are available to customise your massage experience.The only downside is that I find it so, so difficult to come back down to earth at the end of a session, and would happily stay on it all day !!
Proper Storage
We have more warehouses across the Europe
and we store your chair in perfect conditions.
Safe handling
The massage chair is loaded mechanically,
with love and care.
We provide free shipping
In most cases, we transport the massage chairs
in our own vehicles, using our employees.
Handling and Assembly.
We have installed the chair.
Enjoy your massage!
Leave your details and we will call you as soon as possible.
Please fill in the form and one of our consultant will contact you as soon as possible to identify the model of the massage chair that fits your needs. Our specialist will take into account the height and weight of the future massage chair users.
ALEX - Sales agent
Online Department
Komoder Headquarters by Mail