MARINA MEDICAL II Massage Chair - Experience Therapeutic Comfort through Medical Massage Technology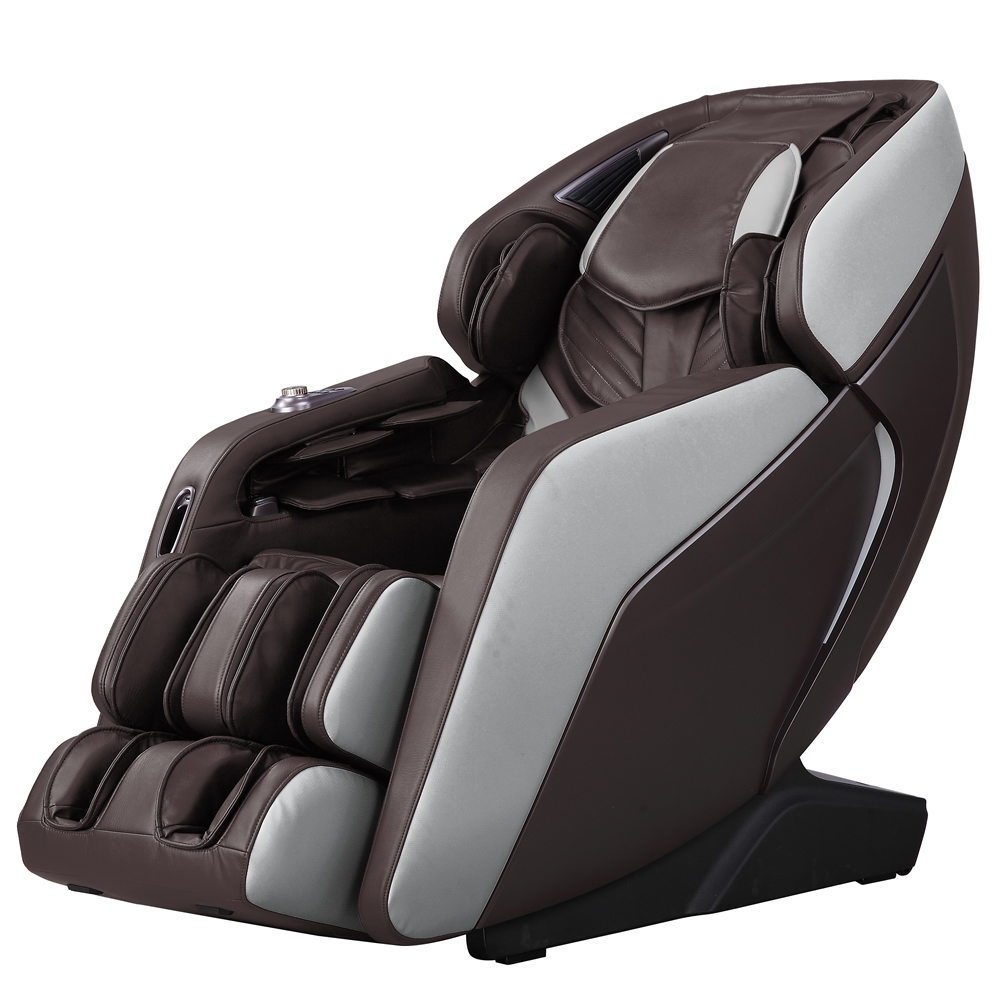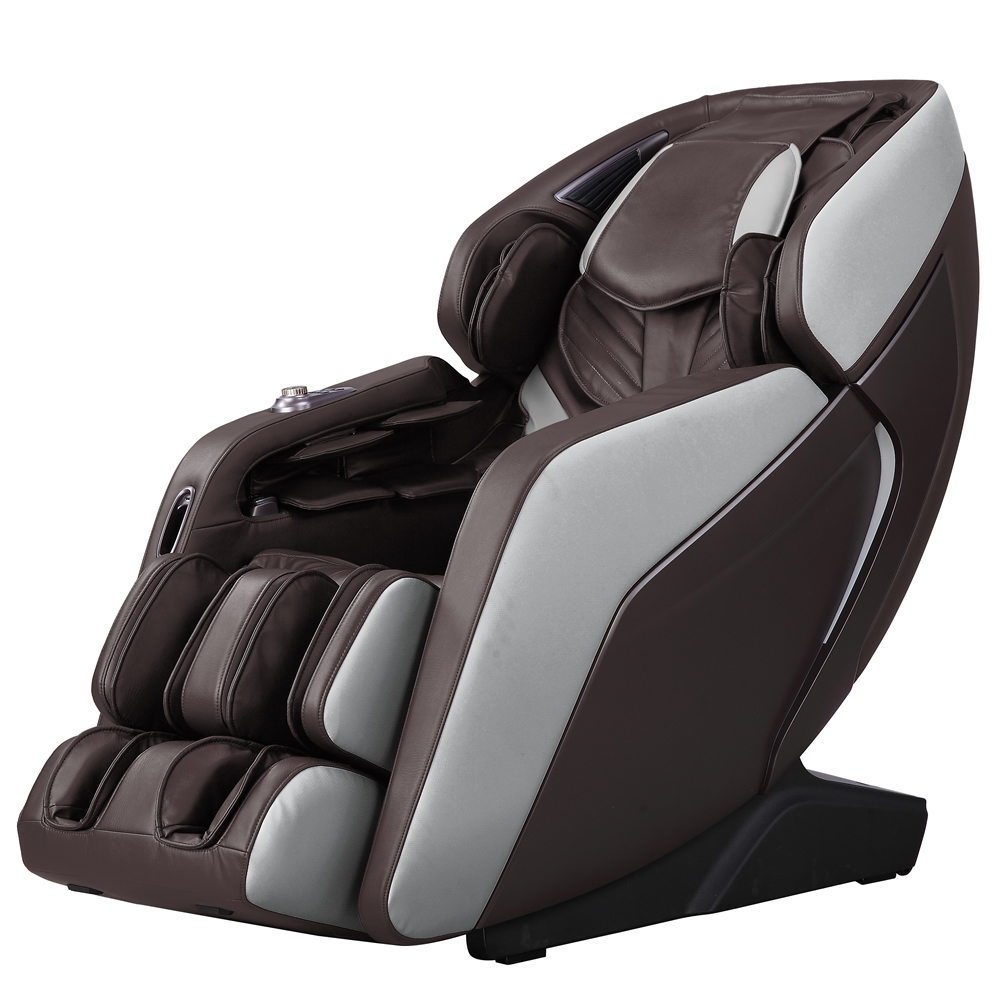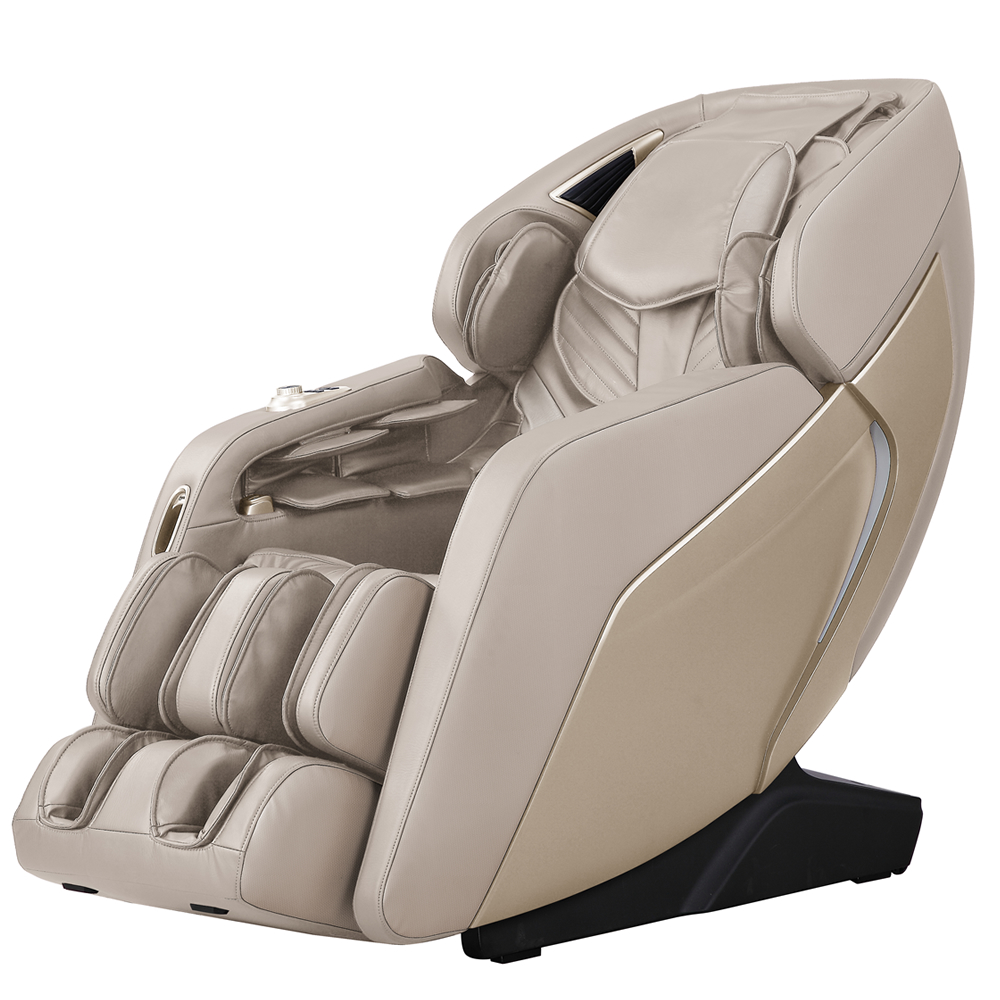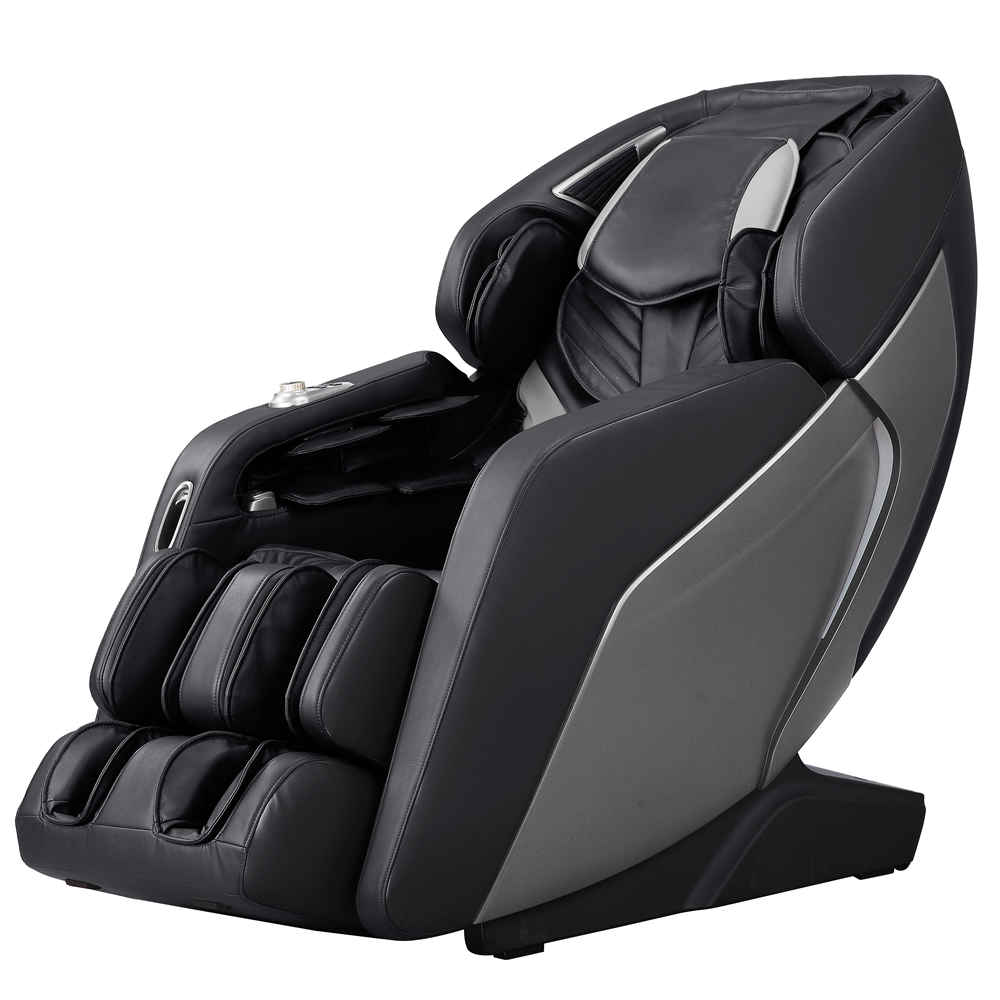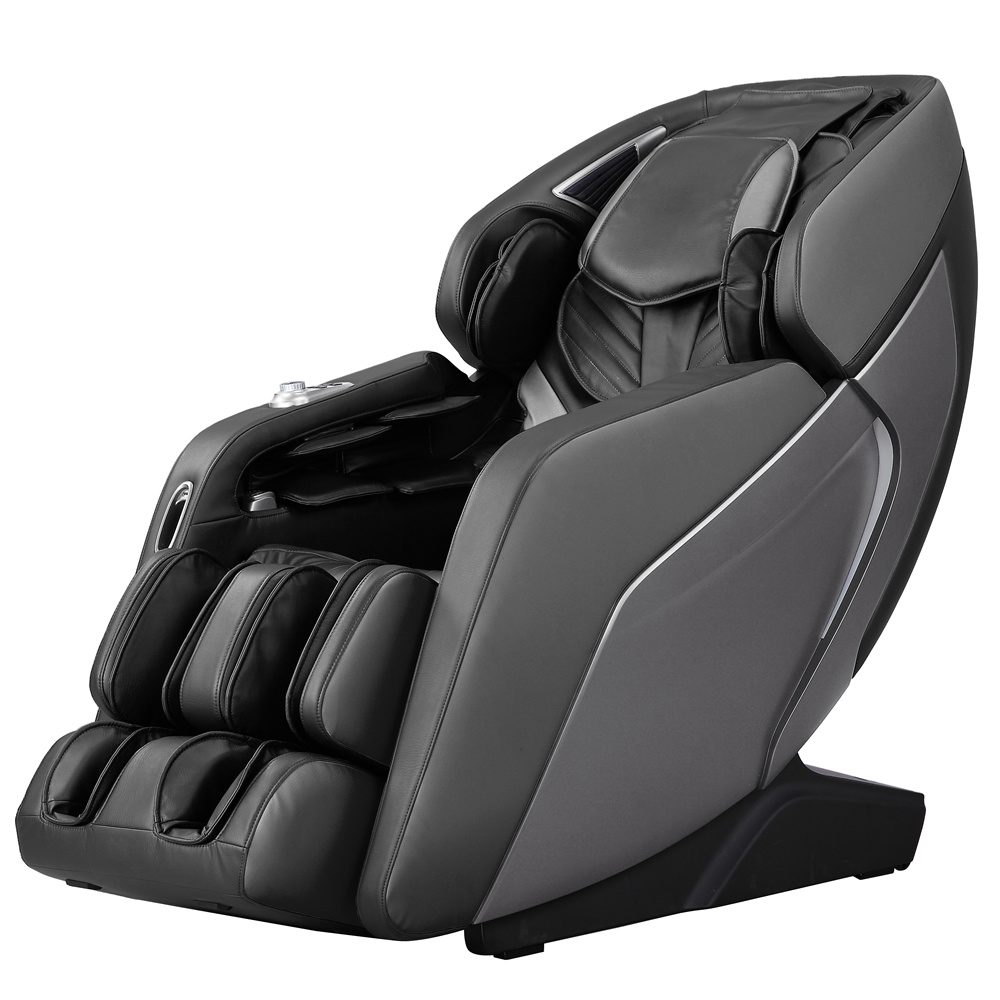 A multifunctional electric massage chair
Discover the healing and relaxation power that comes from 21 automated massage programmes and seven unique massage techniques
The MARINA MEDICAL II is the therapeutic massage chair in the UK that you'll use daily for ongoing relaxation and pain relief.
Whether you want a lumbar, cervical or foot massage, this armchair will exceed your expectations. The MARINA MEDICAL II massaging armchair manages to reach the paravertebral muscles with ease. And heated 3D technology is used to treat lower back and neck pain.
Customised medical massages
Do you suffer from muscle tension, neck pain or stiffness?
The MARINA MEDICAL II massage chair delivers a cervical massage tailored to your needs. This versatile armchair can be adapted to the exact dimensions of your body, so you'll reap the benefits regardless of your size and shape. The back of the chair is high, and the massage robot climbs high enough to perform an exceptional cervical massage.
Measure your heart rate, blood oxygen levels, and overall fatigue
We want to help our clients manage their health and well-being, which is why we have equipped this massage chair with scan sensors for the following medical issues: heart rate, blood oxygen saturation, and overall fatigue levels.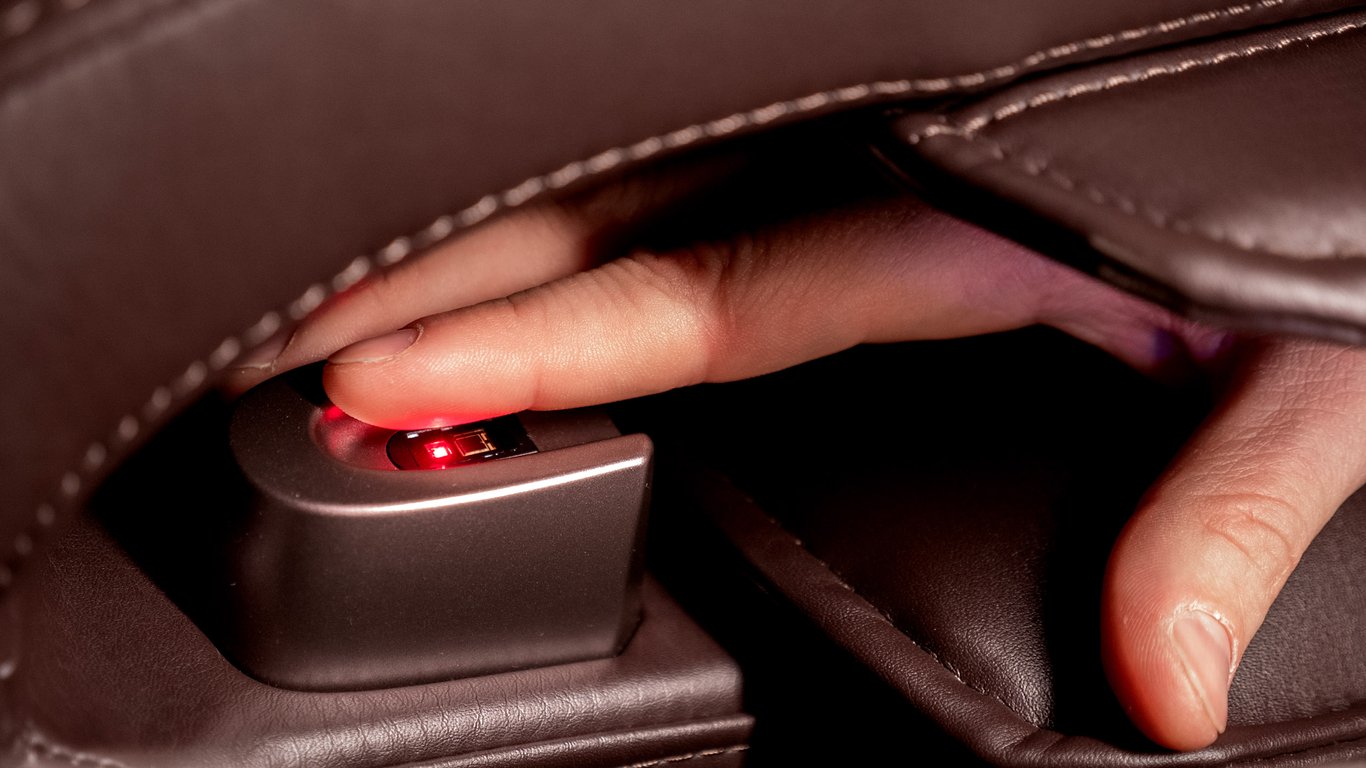 Heating for your back
The MARINA MEDICAL II full-body massaging chair delivers a more intense and relaxing massage by delivering soothing heat where it's needed most. Once the heating function is activated, the air cushions in the lumbar area gradually heat up, facilitating the relaxation of the muscles.
Massages for your arms — thanks to air cushions
The air cushions of the MARINA MEDICAL II massage chair follow the curvature of the arms, offering a highly effective massage experience. This approach to massage relaxes and invigorates your arms and palms.
Reflexology and calf-kneading technology
Calf massage
To ensure maximum comfort and relaxation for your calves, the extendable support stretches by up to 20 cm — ensuring people of all heights and sizes can benefit from the massage chair's healing power.
Reflexology for effective foot massages
The MARINA MEDICAL II massage chair is equipped with a reflexology function. This makes it perfect for stimulating key nerve centres.
Reflexology technology
Reflexology is a type of massage necessary for the rapid elimination of physical or mental fatigue.
The reflexology massage is performed using a plate equipped with rollers, and the leg support is extended to fit the different heights of the users. The reflexology function is the most recommended especially for the people who suffer from leg pain or for people who spend a lot of time standing.
21 Automatic massage programmes
The MARINA MEDICAL II electric massage chair stands out due to its 21 massage programmes. These programmes give you the opportunity to choose the massage that's best suited to your body and your ailments. You no longer need to customise your massage because these pre-defined massages can give you a fully personalised experience. Select programmes based on the time of day, your desired intensity level, or the part of your body that requires attention.
Customisable massage programmes
This powerful massage armchair's technology allows you to adjust the massage mechanism according to your specific needs. You can automatically select the intensity of the massage and air cushions, as well as the distance between the massage rollers. Select the massage speed you prefer, and opt for a massage that focuses on just one area of your body — the choice is yours! Once you're happy with your customised massage, save your programme in one of five custom programme positions.
3D Joystick for quick intensity adjustments
The 3D joystick allows you to control the intensity of the massage robot at any time — according to your preferences. Choose between soft, medium, or intense massage settings.
Quick control buttons
The entire massage experience can be controlled using the built-in control panel on the right arm of the chair.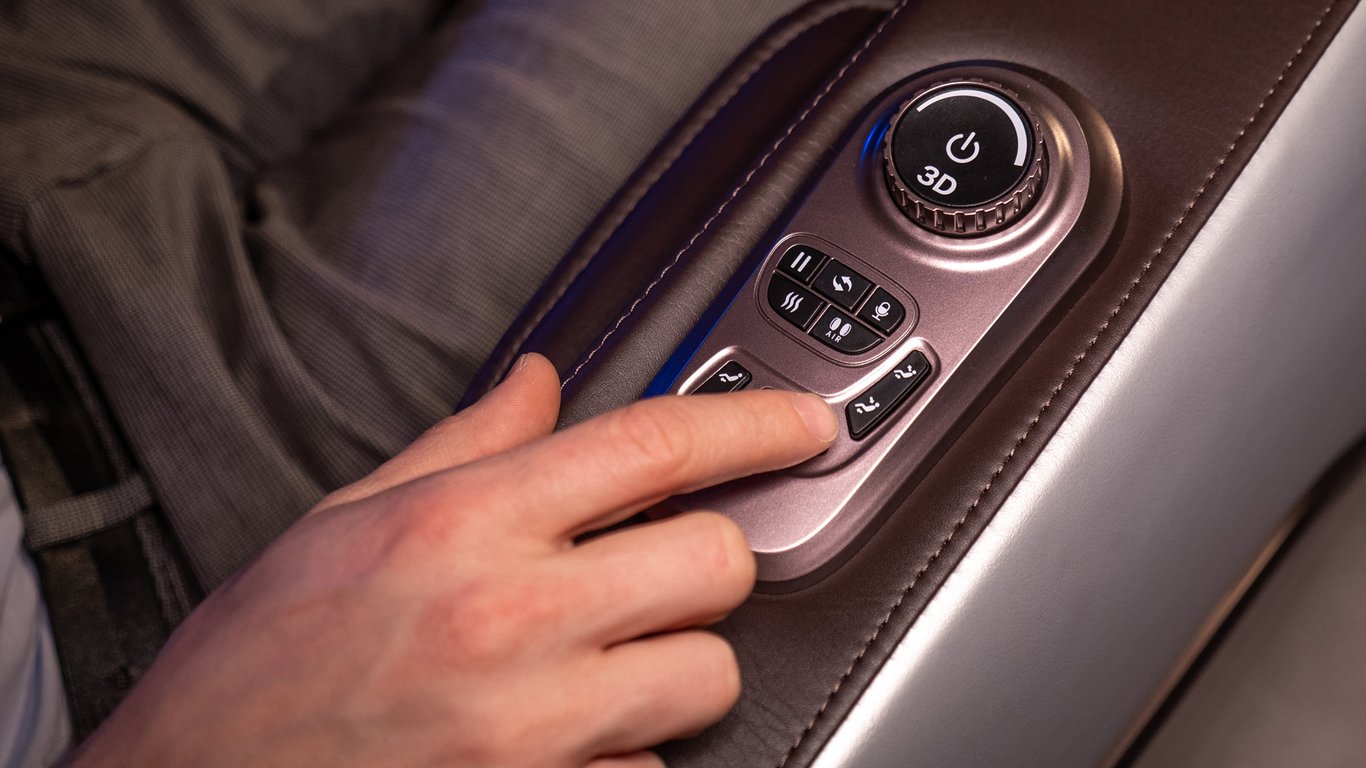 Wired remote control and a made-to-measure remote control pocket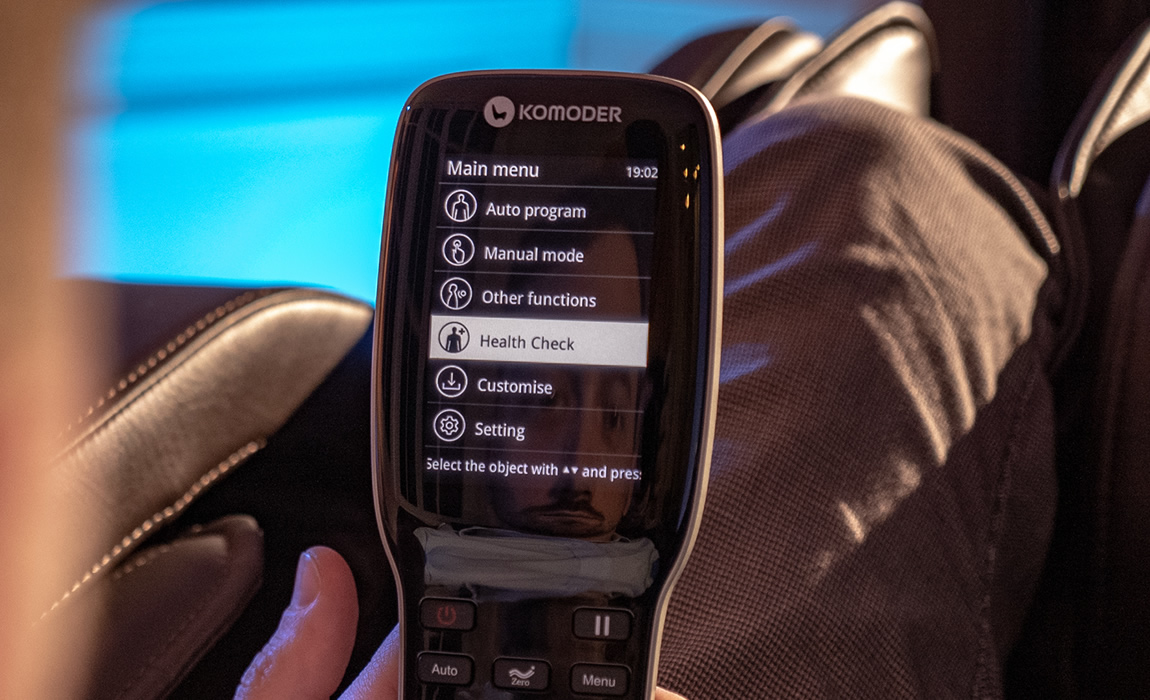 Zero Gravity button
What is Zero Gravity?
This position puts you in a state of weightlessness in which you will be able to enjoy the perfect state of relaxation. The new MARINA MEDICAL II massage armchair facilitates Zero Gravity positions using two folding pistons.
Zero Gravity positions
By selecting the "Zero Gravity" option, your thighs and calves are positioned at the same horizontal level as your shoulders. The centre of gravity of your body changes and the gravitational force will be evenly distributed across your body. This is the ideal position for massage.
Smart space-saving function
This innovative electric massaging chair is designed for small spaces, so a distance of only 5 cm from the back wall is needed when the massage chair is in operation. The seat of the chair will slide forward without touching the back wall.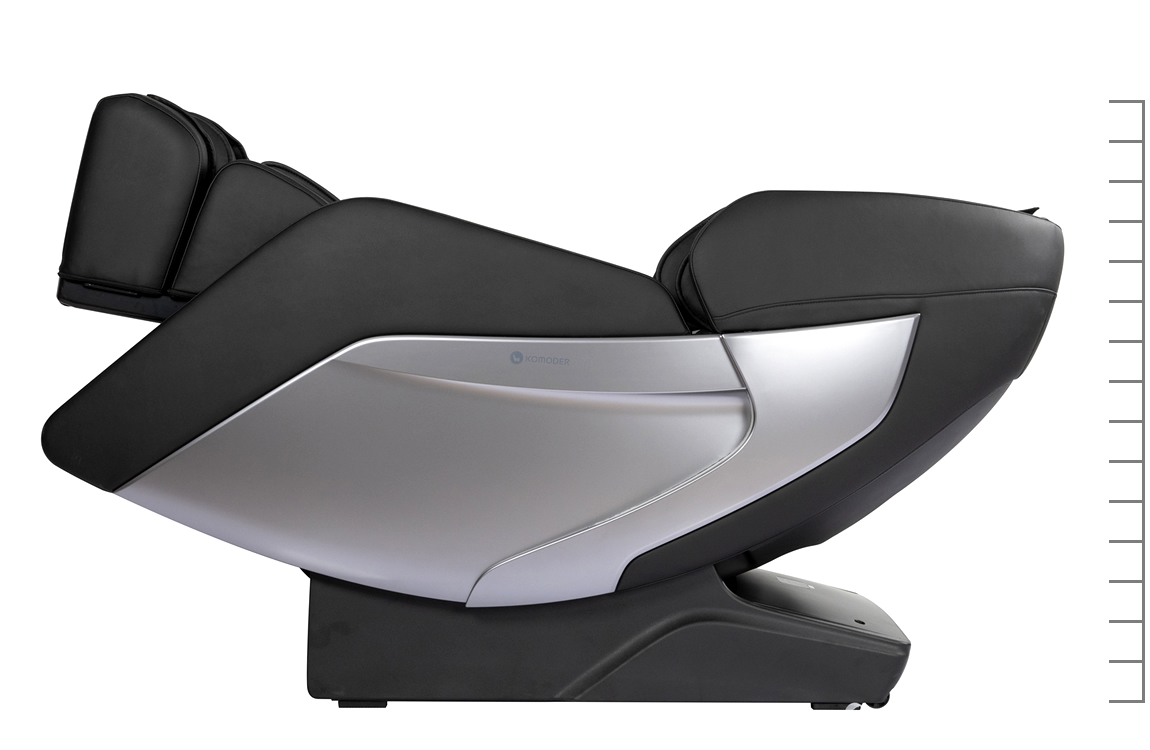 Built-In audio system
Listen to your favourite music during your relaxing massages.
You have the option of using a smartphone or tablet to play music through the MARINA MEDICAL II's in-built, wireless audio system. The armchair is equipped with a set of speakers and Bluetooth connectivity to give you the chance to listen to your favourite music directly from your mobile phone or tablet.
Marina Medical II zero gravity massage chair
What Is Zero Gravity?
Zero gravity is the feeling of floating in space. It's a sensation that enhances any type of massage and helps you to relax faster! It's not just the position of the chair that makes it feel like you're floating, however; it's also because gravity isn't trying to 'pull' your body down.
KOMODER's MARINA MEDICAL II zero gravity massage chair uses the principles of gravity to provide a massage. The chair will suspend you in mid-air, so you can feel weightless and relaxed as you receive a massage. This type of massage is perfect for people who have trouble sitting or lying down for long periods, as well as those who experience persistent back pain.
What is the purpose of the Zero Gravity position in a massage chair?
The purpose of the zero gravity position in a massage chair is to increase blood circulation. The body's circulation is responsible for getting nutrients and oxygen to every part of your body, including your brain, muscles, and skin.
Advantages of a Zero Gravity massage chair
Improves posture
Posture is one of the most important health benefits to consider when looking for a massage chair. It's something that can improve your overall health, and it can also help with pain, stress, and your overall mental health.
One of the benefits of this Marina Medical II zero gravity massage chair is that it improves posture. If you're not using a massage chair regularly, it might be hard to remember how important it is to have a good posture every day. Once you start using one regularly, you'll notice how much your posture improves! People also use an electric massage chair to help with their posture.
Increased circulation
When you are floating in the MARINA MEDICAL II zero gravity massage chair, there is no weight on your feet, so you don't have to work as hard to stay upright. This will help improve circulation and reduce pain in your legs and feet.
Rehabilitation of injured muscles and tendons
In the past, when people were injured, they would go to a hospital to receive physical therapy. The physicians would give you massages and exercises to help your muscles and tendons recover. However, as technology has advanced, there are now massage chairs that can help people with injuries recover faster than with traditional therapies.
Komoder's Marina Medical II zero gravity massage chair allows people to receive massages while they are floating in zero gravity which helps them recover faster than they would if they were just lying down on a table while receiving a massage. This is a similar effect to a heated massage chair.
This type of chair delivers many benefits, including:
Helps injured muscles and tendons heal
Decreases pain after an injury
Reduces inflammation in the body
Relieves lower back pain
Whether you're suffering from lower back pain or just want to feel more relaxed, KOMODER's MARINA MEDICAL II zero gravity massage chair is perfect for people who can benefit from full-body massages. The chair provides a gentle yet thorough pressure on the areas of your body that need it most.
Relieves headaches
Headaches are among the most common aches and pains that people suffer. The good news is that a massage chair can help you get rid of them!
KOMODER's zero-gravity massage chair helps relieve headaches by providing the body with a gentle, therapeutic massage. This type of treatment not only feels great on your body but can also help relieve the muscle tension that may be causing, or contributing to, your headaches.
Decreases stress
Stress can be caused by many factors, such as an argument with your spouse or an important deadline at work. The thing about stress is that it accumulates over time, causing you to feel overwhelmed and often nervous.
The MARINA MEDICAL II zero gravity massage chair uses its magnetic field to adjust your body's natural gravity. When you sit in it, your blood pressure drops and a feeling of weightlessness takes over. This relieves stress by releasing endorphins into the bloodstream, creating euphoria and relaxation.
Increases energy levels
Regular use of this innovative electric massage chair can dramatically improve your energy levels. The chair gives you a full body massage in a comfortable and relaxing environment. This means you can take full advantage of the massage chair for longer and more frequent sessions.
Restores muscles after workouts
When you're on the go, it's not always easy to find time to take care of your muscles. Whether you're travelling, working out at the gym, or just trying to maintain a good overall fitness level, it can be hard to get in a workout when you're short on time.
You might think that all you need is a set of dumbbells and some resistance bands, but that's not always the case. Sometimes you need something extra to help keep your muscles from going into spasms during or immediately after a workout. That's where KOMODER's MARNIA MEDICAL II zero gravity massage chair comes in!
When you sit in it for just 30 minutes every day after your workouts, your muscles will begin to relax and recover more quickly and effectively. If you use this chair regularly after each workout, your muscles may become stronger and more flexible than ever before!
Improves sleep quality
If you have problems getting a good night's sleep, you may need to work on ways to relax through the day.
With the MARINA MEDICAL II zero gravity massage chair, you can be sure that your body will be relaxed for hours at a time, which means falling asleep at bedtime should become easier. And when that happens, you're more likely to wake up refreshed in the morning.
Conclusion
KOMODER's MARINA MEDICAL II zero gravity massage chair is a great way to help restore your well-being. It provides you with the feeling of weightlessness that can deliver daily relief from stress, pain, and tension. This allows for deeper penetration of pressure points, helping you feel better faster.
The zero gravity massage chair helps improve circulation, increase blood flow, and reduce pain by stimulating nerves more effectively than a regular massage. It's also great for relaxing muscles after a workout and helping you recover from injuries.
Specifications and technical characteristics
21 automatic massage programs + 5 customizable programs
Fast massage
Comfort
Relax
Stretch
Full body
Neck & shoulder
Back & waist
Full air
Stress relieving
Energy
Good night sleep
Joint Care
Neck & shoulder care
Spine
Office regimen
Sport recovery
Brain refresh
Spine care
Waist care
Legs care
Rejuvenation

7 Massage techniques
Knead
Tap
Knead & tap
Shiatsu
Grasp
Shiatsu II
3D( I-IV)
Timer
Yes
3D massage on the entire back surface
135 cm SL rail
Possibility of fixed point massage
Yes
Air cushion intensity
Adjustable in 5 steps
Massage speed
Adjustable in 5 steps
Foot massage stand
Extendable 20 cm
Heating
Yes, in the lumbar area
Massage system
3D Adjustable
Buttocks massage
Yes
Leg massage
Yes
Reflexology
Adjustable in 3 steps
MEMO MODE
5 custom programs can be stored in memory
Remote control
Yes
Remote control pocket
Yes
Upholstery
Eco-friendly, antibacterial leather
Massage chair weight (kg)
110 kg
Power supply
220-240 V ~ 50Hz / 60Hz
Dimensions
Request an Instant Price Quotation via Email!
Speak with One of Our Massage Chair Specialists! ☟
Thank you for your patience!
M Lahey
Stephanie was incredibly helpful and patient throughout the entire process, answering all my queries with expertise and ensuring a smooth purchasing experience. Her professionalism made me even more excited about my purchase. I'm eagerly awaiting for delivery.
Get Expert Advice on Choosing the Perfect Massage Chair!
Our massage chair specialists are here to guide you towards the perfect choice!