Foot Massager Machine - Komoder C302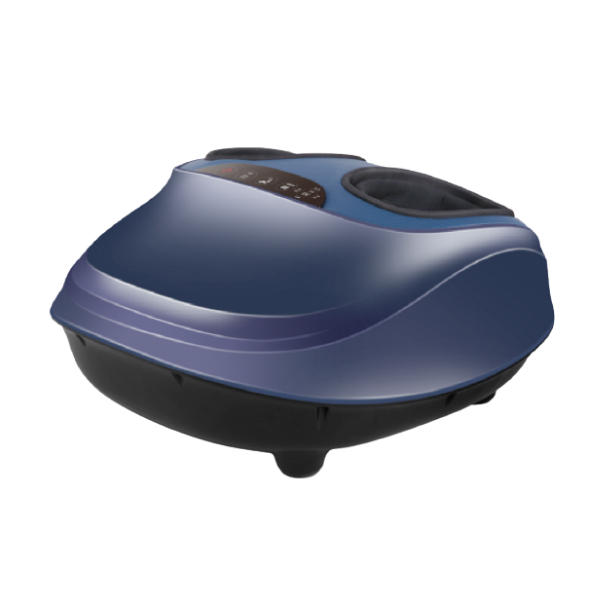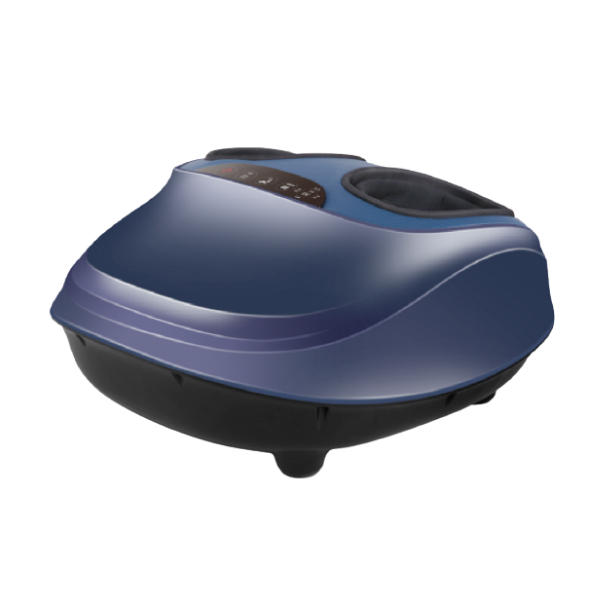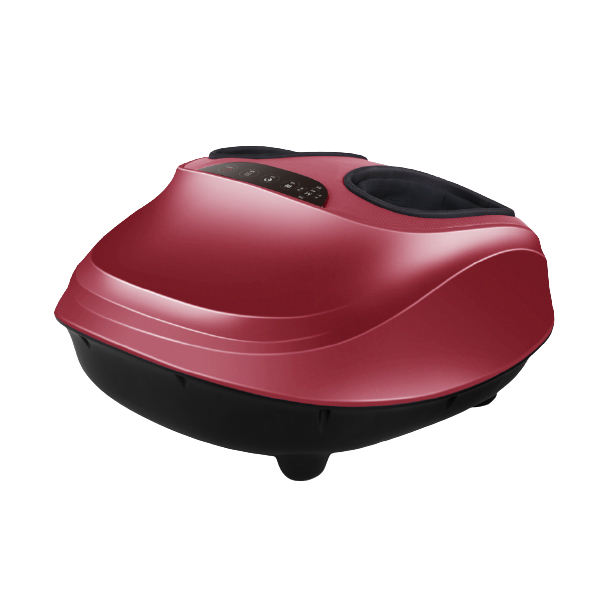 | | | | |
| --- | --- | --- | --- |
| Heating | Automatic programs | 3 Air pressure intensity levels | Reflexology |
A Unique Foot Massager Machine

Using 3D massage technology, the Komoder C302 foot massager machine provides excellent relaxation for your soles and ankles. Our heated massager focuses on stimulating the nerve centers in the soles of your feet, creating a sensation of relief that helps elevate your mood and reduce stress. Enjoy a spa-worthy therapy session with the Komoder C302 massage equipment.

The foot massager has a manual mode with three intensity configurations available. Each allows the massage session to be adjusted to suit your preferred level of relaxation.

The device can be set according to your preferences by using the built-in control panel. The three modes provide different types of massage – guasha, kneading, and air pressure, releasing tension and alleviating strain.

Komoder C302: professional massage for feet, soles and ankles

Using 3D massage technology, the Komoder C302 massage device provides a great relaxation for your soles and ankles. C302 focuses on stimulating the nerve centers in the user's soles.

The manual mode with three predefined programs allows the adjustment of the massage session for extreme relaxation. Set the device accordingly to your preferences by using the built-in control panel.

Important Features

Predefined massage programs

Mimicking the movements of a professional masseur these four automatic massage programs will surely remove discomfort from your feet with their revitalizing effect.

Reflexology

The basic principle of reflexology is simple: certain parts of the body reflect the whole. Reflex points, which relate to all parts of the body, can be found in the feet, hands, face, and ears. These points respond to pressure, so by using massage techniques we can stimulate the body's own natural healing process. The body starts progressively clearing blockages, re-establishing energy flows, and balancing itself, resulting in better health.

Sole massage rollers

Featuring massage rollers, the Komoder C302 uses reflexology for a more immersive massage experience. Simulating each pressure point, massage rollers are the best tool for improving blood circulation and revitalizing your body. You can opt between 3 adjustable intensity levels that will surely suit your needs.

Airbags massage

Advanced massage technology with airbags for a massage experience superior to any other massage device. You can opt between 3 adjustable intensity levels that will surely suit your needs.

3 manual mode massage programs

Massage your feet from toe to ankle by choosing between guasha, kneading and air pressure mode.

Foot Massager with Built-in touch control panel

Set your device quick and easy using the built-in control panel.

Built-in touch control panel

Customize your massage experience using the built-in panel! You can change the massage modes, air pressure intensity or to turn on/off the heating with a simple touch.

Enjoy your absolute relax moment!

The Komoder C302 foot massager machine is designed to provide absolute relaxation. The massager has a timer function that automatically stops the device after a 15-minute session, so it won't remain active even if you forget to turn it off.

Enjoy a luxury massage chair experience from the comfort of your home. Make your feet and heels feel like new with the Komoder C302. The heating function of the massager promotes blood flow to your lower body, improving circulation and helping damaged tissue heal faster.

The textile cover is detachable so you can clean it easily!

You can easily take off the cloth and clean it when necessarily. Easy and accessible maintenance!

Heating function for a more efficient therapy!

C302 foot massager comes with an efficient carbon fiber based heating function, so your massage will become a real therapy session.
Komoder foot massager Specifications and technical characteristics
Automatic massage programs

4

Manual Massage

3 Modes

Air pressure intensity levels

3

Massage airbags

Feet and heels

Massage speed levels

3

Heating

Yes

Consumption

35W

Upholstery

Textile

Weight (kg)

5 kg

Power supply

220V

Colors

Dimensions
Why Choose a Foot Massager?
A foot and leg massager is a welcome addition to your life. It's the perfect way to make your feet feel new after a stressful day at work or a long hike. With a foot massager machine, you can enjoy a relaxing therapy session while watching your favorite TV shows.
But why choose a foot massager? Modern foot massagers are designed to mimic the effects of a massage done by a trained professional. The correct amount of pressure and compression has several health benefits, including more flexibility, mobility, and circulation. It also contributes to a better mood and reduces stress.
Expected Benefits of Using a Foot Massager
If you're looking for a massage chair in London, Komoder has you covered. We offer many massaging solutions, including a full body massage chair for the ultimate relaxation experience. We also have plenty of foot massagers that are packed with benefits to improve your daily life. Discover the expected benefits of using a foot massager:
Increases flexibility and mobility
A foot massager machine helps stretch muscle fibers in your feet, improving circulation and increasing energy. This helps people increase their flexibility and motion range, making it useful for those with an active lifestyle.
Reduces swelling and inflammation
Being active for long periods can cause your feet to swell, causing discomfort and even pain. Luckily, by improving your circulation, especially around the extremities, a foot massager machine can be used to reduce swelling and inflammation.
Relieves stress and anxiety
Foot massagers can help decrease your cortisol levels, a hormone directly related to stress. Massage machines also increase the levels of dopamine and serotonin, making you feel good.
Treats strained muscles
Being overly active or standing up for extended periods causes strain on your muscles, which leads to pain and discomfort. Using a foot massager helps loosen your muscles and prevent injuries. Massages also make your body release endorphins, hormones that reduce pain by binding to pain receptors.
Boosts your immune system and treats health conditions
The Komoder C302 follows the principle of reflexology by applying pressure to certain parts of your feet. Pressuring reflex points has several benefits, including an immune system boost by stimulating and increasing the production of lymphocytes. Research suggests that a foot massager machine can be used to treat conditions like migraines and headaches.
Important Points for Choosing a Foot Massager
Choosing a foot massager isn't as straightforward as it seems. There are several factors you need to take into account before making a decision suited to your needs. Here are the most important points for choosing a foot massager that you should think about:
Type of movement
Some massagers use air compression, while others use rollers or vibrations, although it's recommended you consult a doctor to help you choose the best type of movement for you. The Komoder C302 has rollers and airbags that combine to provide a lasting and relaxing effect.
Features
Features make your foot massager machine more convenient and efficient. This includes automatic shutdown, removable covers, and programmable settings. A machine with more settings helps you choose what's best for your scenario. The Komoder C302 comes with manual and automatic modes with various settings and intensity levels.
User-Friendly
On top of choosing a foot massager with many features, you'll want it to be easy to set up and use. It should have a straightforward interface with programmable modes and intuitive buttons. Our Komoder C302 foot massager can be configured in only a few clicks. This way, you'll spend more time enjoying relaxing foot massages than watching tedious tutorials online.
Heat
Heat is one of the most important aspects a foot massager should have. A heated foot massage helps improve the blood flow in the area and makes you feel more relaxed. The Komoder C302 is heated for a greater relaxing effect, making it perfect for muscular and circulatory issues.
FAQ
Which type of foot massager is best ?
The best foot massager for you depends on what you're looking for. If you want deep kneading and rolling, go for a Shiatsu massager. If you want gentle vibration, a vibration massager is your best bet. For reducing swelling and promoting blood flow, go for a compression massager. And if you want a more hands-on approach, a manual massager may be right for you. At Komoder, we offer a range of high-quality foot massagers that cater to all these needs. Check out our products on our website today!
Is it good to use foot massager daily ?
Yes! Using a foot massager daily can provide numerous health benefits, including reducing stress and anxiety, improving circulation, and relieving pain and tension. Just be sure to follow the manufacturer's instructions and use the massager for the recommended amount of time.
Do foot massagers improve circulation ?
Absolutely! Foot massagers are designed to stimulate blood flow and circulation, which can provide numerous health benefits such as reducing swelling, relieving pain, and promoting relaxation. At Komoder, we offer a range of foot massagers that use advanced technologies such as air compression, heat therapy, and deep kneading massage to provide targeted relief and improve circulation.
What are 5 benefits of foot massage ?
Foot massage has numerous benefits for your health and wellbeing. It can improve circulation, reduce stress and anxiety, relieve pain and tension, promote better sleep, and enhance overall relaxation. So, whether you're looking to pamper yourself or improve your health, a foot massage is definitely worth considering.