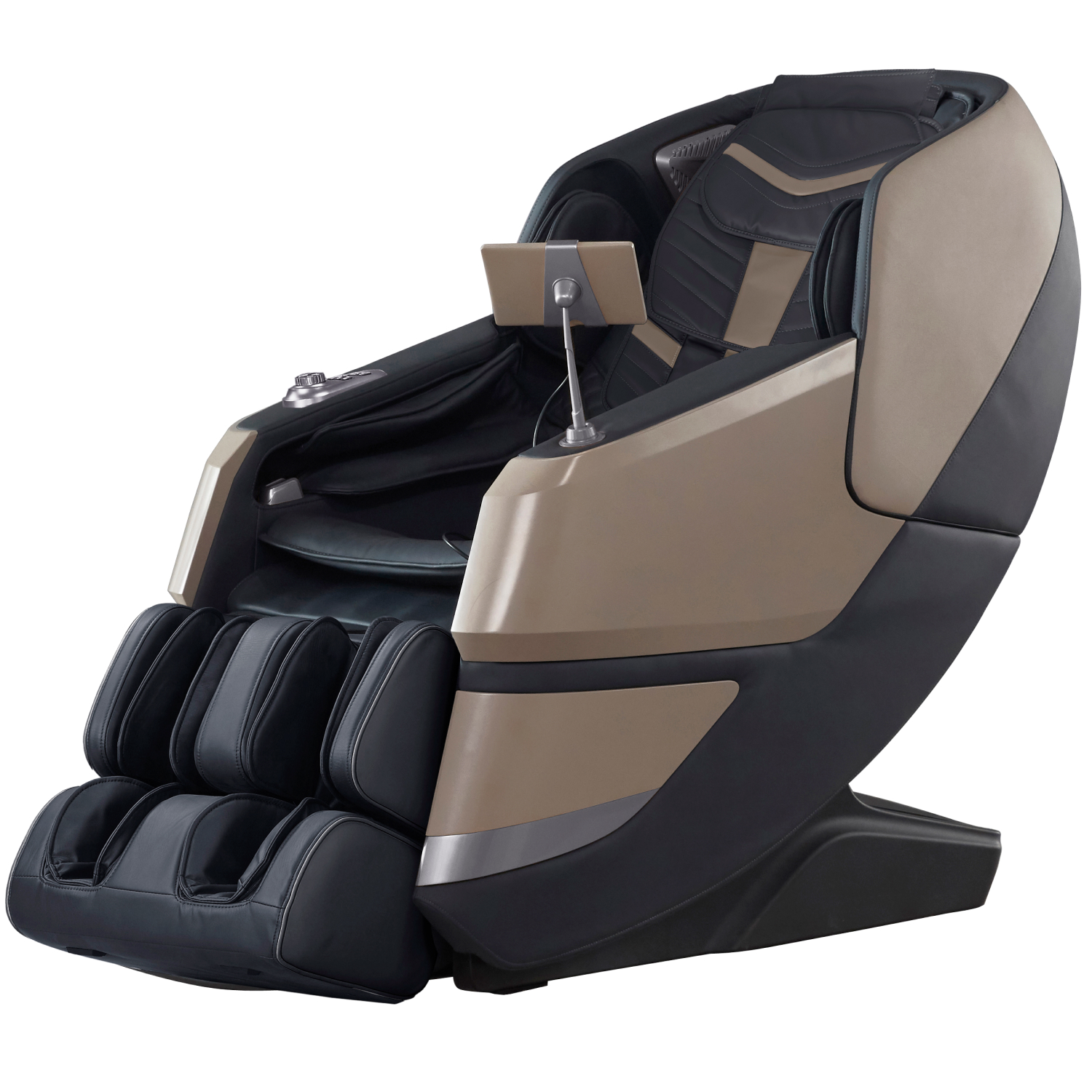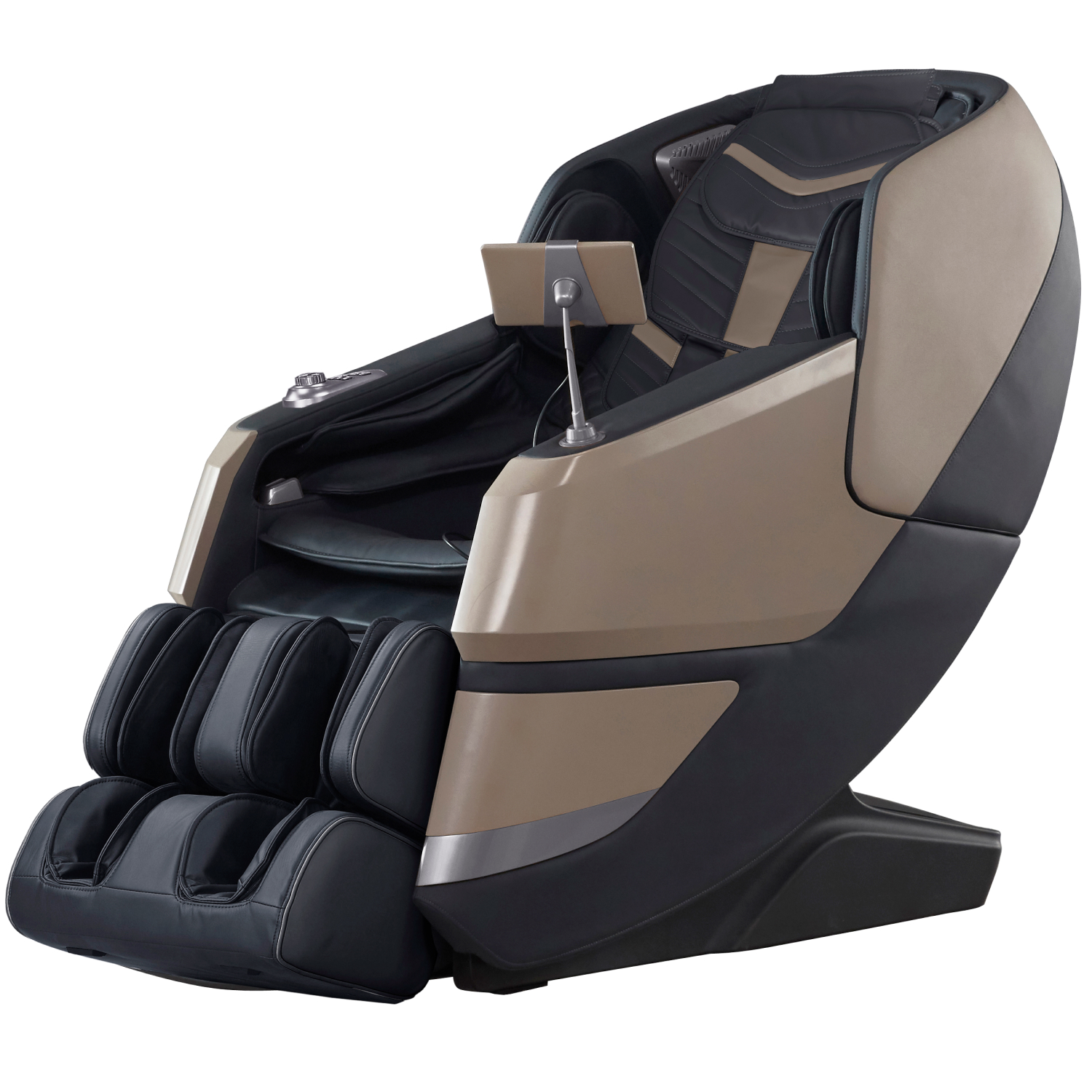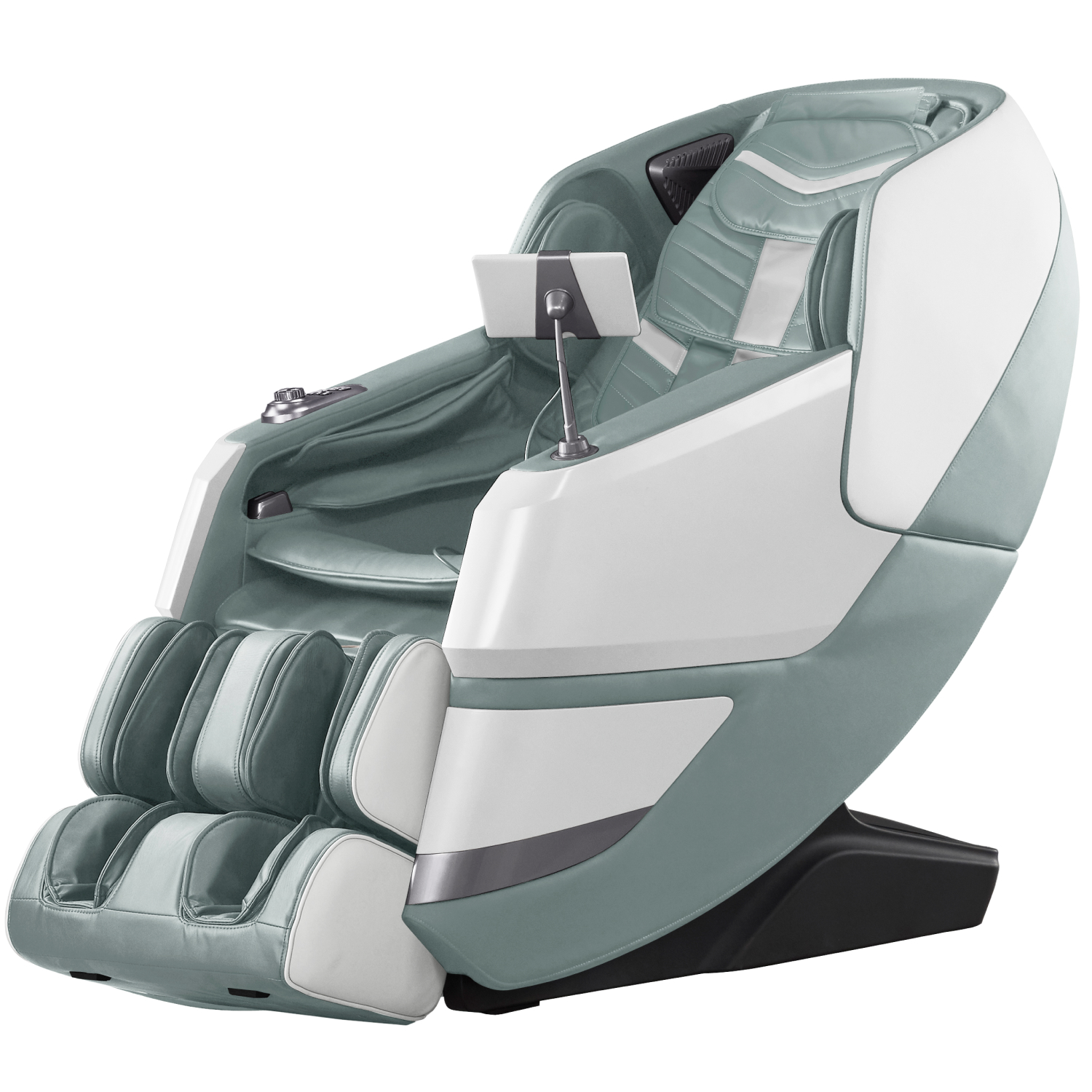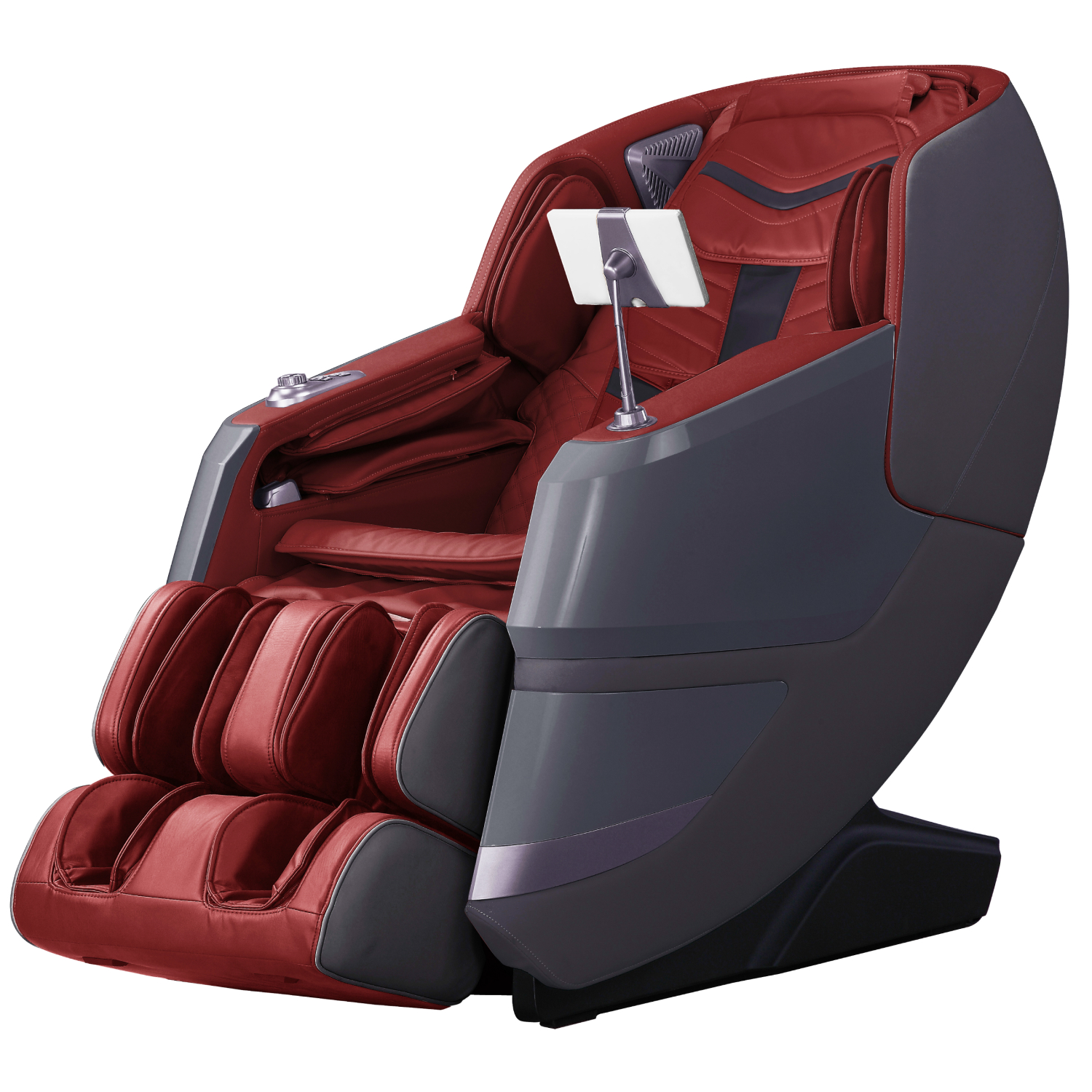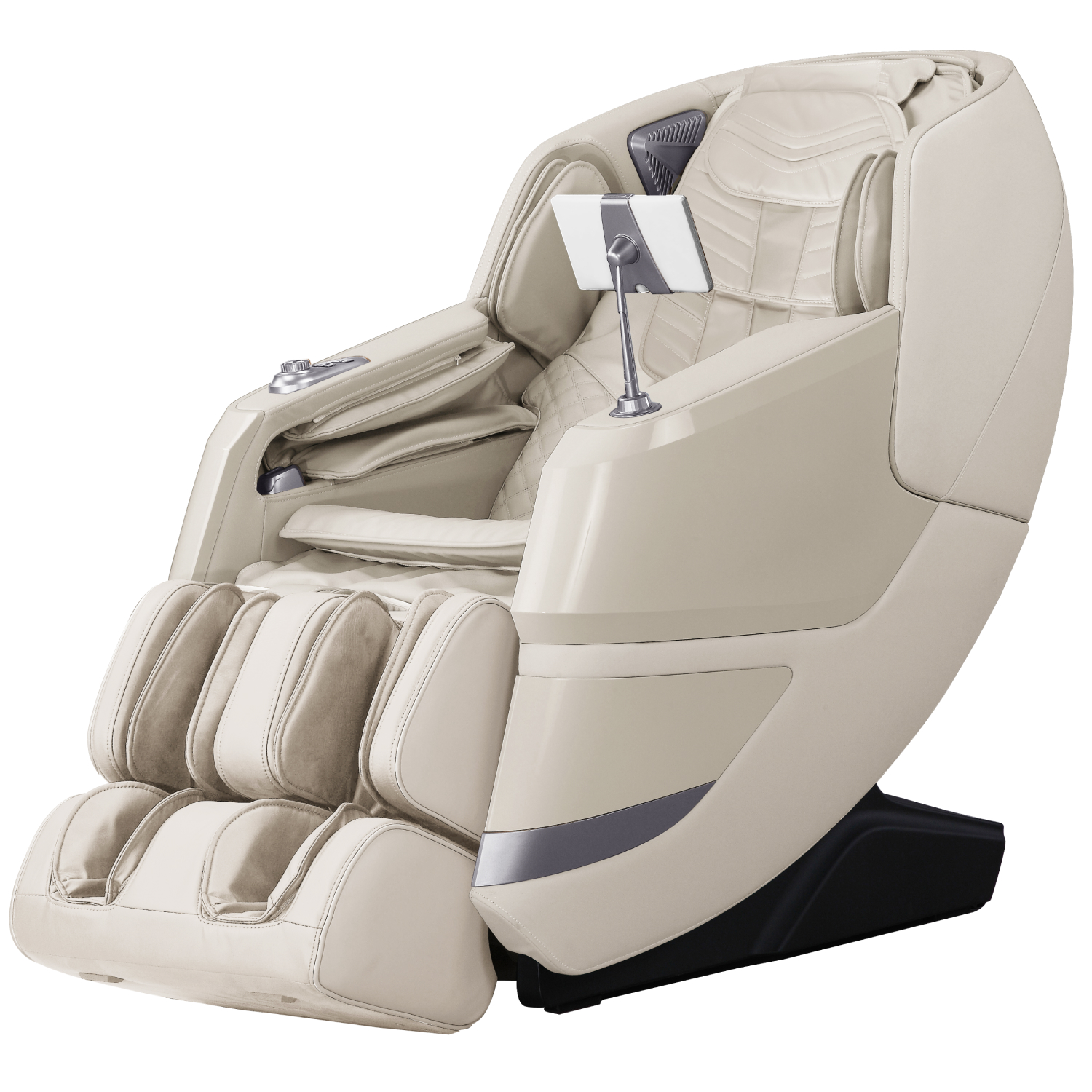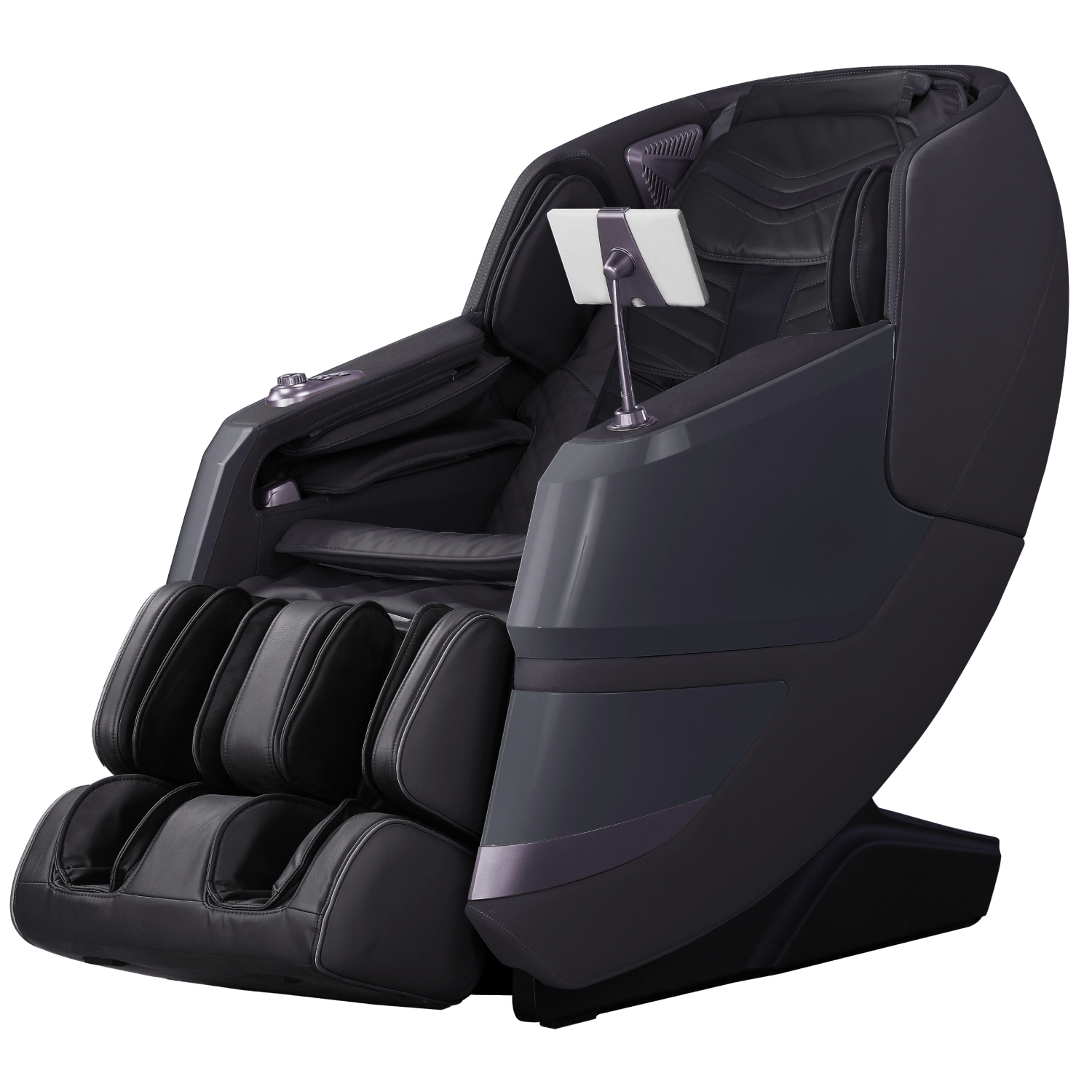 A multifunctional electric massage chair
The new massage chair FOCUS III simulates six massage techniques and provides 15 automated massage programs. A satisfying air pressure massage is delivered by using 24 double-layered airbags. And for enhanced comfort and relaxation, the chair is equipped with two audio speakers, Bluetooth connectivity, a tablet remote control, voice command technology and an innovative heating system.
If you can recover quickly after a long and stressful day, you can stay on top of your game. A deep tissue massage is one of the easiest methods to do that, which is why full-body massage chairs are so popular right now. Back and muscle pain, cervical issues, muscle tension, and general stress can all be alleviated by using the FOCUS III massage chair every day.
Experience Ultimate Relaxation with the Komoder Focus 3 Massage Chair
Your very own in-home massage therapist
The FOCUS III massaging chair can become a valuable member of your family. With an in-home massage therapist at your disposal 24/7, you can finally say goodbye to muscle pain, stress, and tension — and hello to higher energy levels throughout the day.
The revitalisation of your body is achieved by robot-based 3D technology, a heating system, and a variety of massage settings. The therapeutic masterclass is completed through a calf-kneading function and reflex therapy.
The heated shawl
An innovative heating function for the shoulders, back, waist, and abdomen.
This multifunctional massage chair comes with a unique graphene shawl for comforting and targeted heat. The user can position the shawl where they like during their massage sessions to customise their experience. This state-of-the-art function can alleviate the symptoms of scapulohumeral periarthritis by eliminating the sensation of cold and discomfort around the shoulders. By placing it around the abdomen level, you can relieve pain and improve blood flow.
Control tablet for massage personalisation
The FOCUS III massage chair is controlled by a tablet, which gives you easy access to all the system's functions during massage sessions. Every massage option is always available at the touch of a button.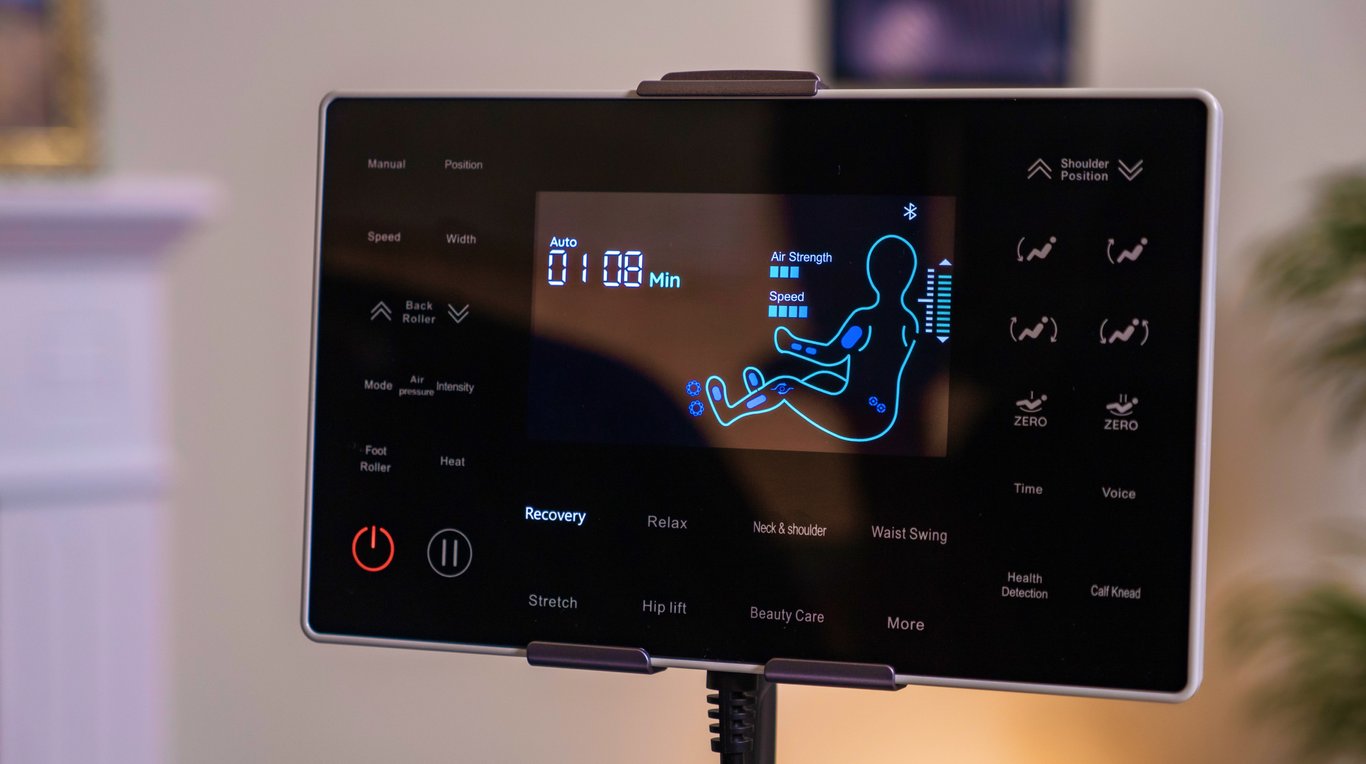 The FOCUS III full-body massaging chair delivers a personalised massage
The FOCUS III utilises an automated shoulder detection system and an extendable legrest to ensure the correct posture when using the chair. This means your massages are always personalised according to your body dimensions.
Six massage types
This multifunctional massage chair provides six distinct massage techniques: Shiatsu, Kneading, Tapping, Knocking, Kneading & Knocking and Massage. The chair adapts to your needs, the time of day, and your personal preferences to deliver relaxing experiences tailored to your requirements.
Hands and leg massages by 24 double airbags for maximum therapeutic effect
And the FOCUS III is equipped with four pneumatic massage types; one for the shoulders using four built-in double airbags, another for the hands and palms powered by eight independent double-cushion airbags, and another for the calves, with the help of 12 double-cushion airbags. The air pressure intensity can also be adjusted to three different levels.
Relaxing calf-kneading functionality
Airbags positioned around the calves deliver a kneading action on key pressure points. This relieves muscle pain and stiffness while lowering tension in the lower body — caused by standing for long periods.
The massage is reinvigorating and toning, thanks to adjustable intensity levels. This massage type is designed especially for those who spend long hours on their feet during their daily activities.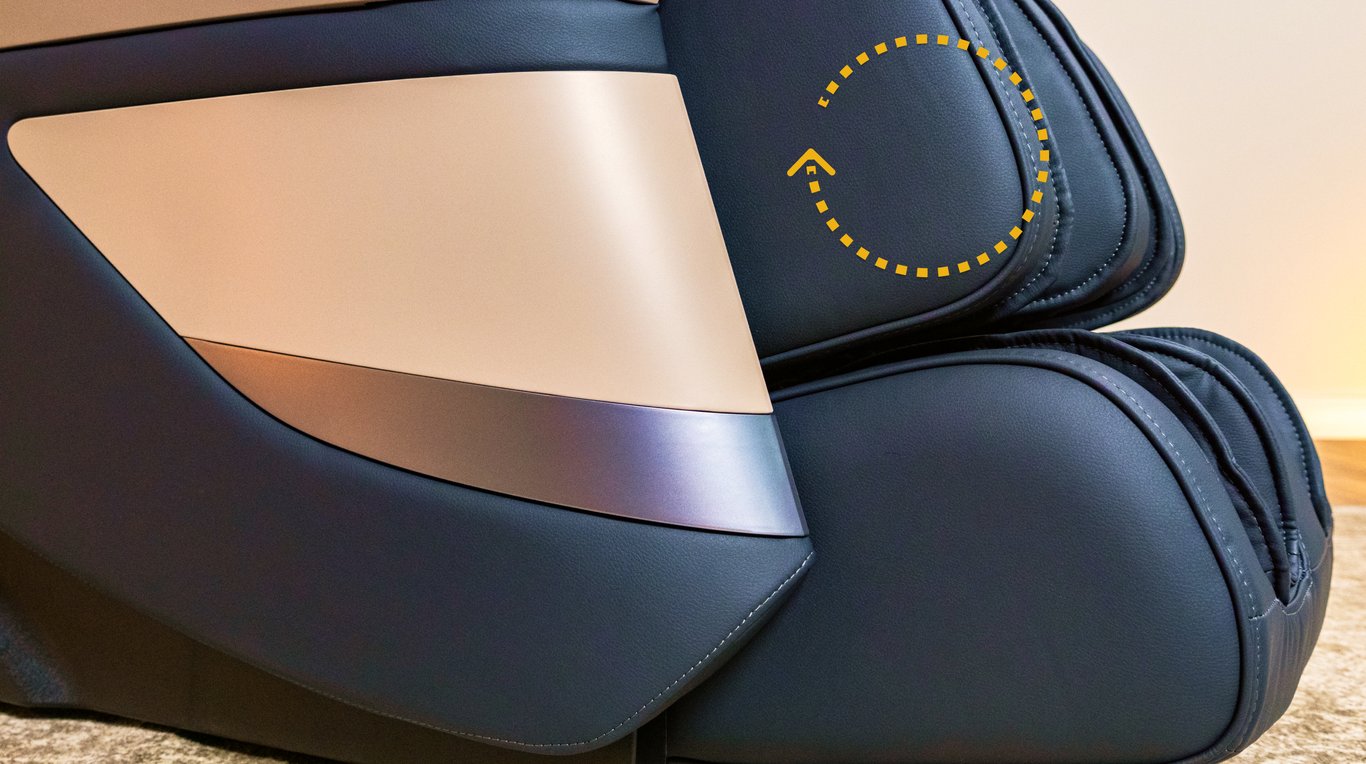 Real-time health monitoring
A scanning and detecting health status system is located on the right armrest for your convenience. It can detect heart rhythm, blood oxygen levels, and your body's overall fatigue level.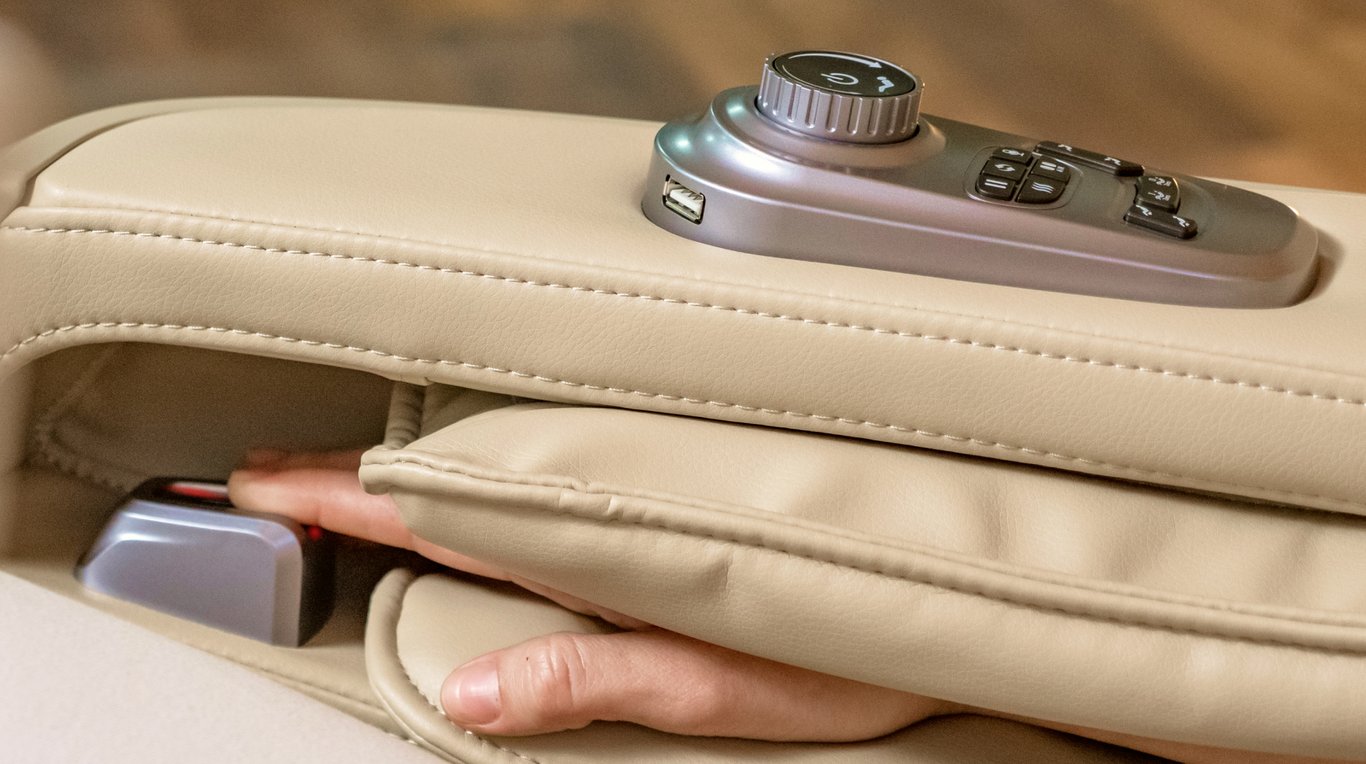 The Focus III massage chair delivers results in the home or the office
Rail sliding technology in the backrest means a clearance of just five centimetres between the chair and the wall is needed for operation. This means this full-body massaging chair can fit in the tightest rooms and offices.
Quick and accessible control buttons
The entire massage experience can be adjusted by using the control panel located in the right armrest.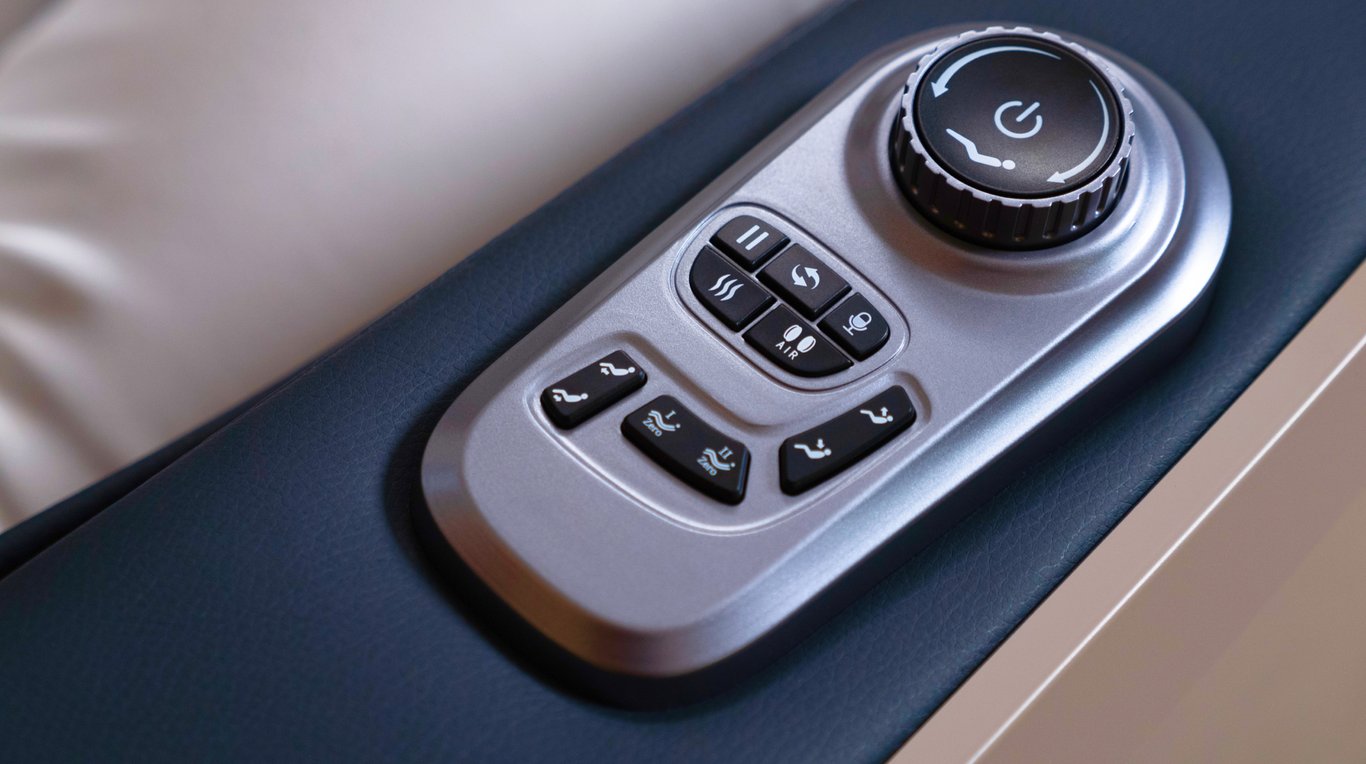 Combine relaxing massages with your favourite music
The built-in digital audio 3D stereo system completes your massage experience. The Bluetooth function allows you to connect your smart devices in order to play your favourite music wirelessly. In addition, the right armrest is equipped with a USB charger to keep your smart device charged at all times.
Control your massage chair via voice commands
This advanced massage chair is equipped with a smart voice recognition system that can process your voice commands and configure your massage accordingly. An LCD colour-display remote control completes what is a revolutionary way to control an electric massage chair.
Intelligent space saving functionality
You only need 5 cm of clearance from the wall to ensure your full body massaging chair works correctly. When switched on, the massage chair will glide towards the front, not on its own axis, to avoid contact with nearby obstructions.
Technical characteristics and specifications
Automated massage programs
15
6 massage techniques
One kneading technique
Two light tapping techniques
One combined technique: kneading with light tapings
Two shiatsu techniques
One griping technique
Massage engines
3
Full back 3D massage
Yes, 135 cm "SL" rail
5 zones manual massage:
1. Full back
2. Upper part
3. Middle part
4. Lower part
5. Fixed point
Airbags intensity
Adjustable on 3 levels
Massage speed
Adjustable on 5 levels
The leg rest
Extendable by 20 cm
Heating
Yes, using the heating shawl
Massage robot
3D
Calves kneading
Yes
Reflexology
Yes, 3 points and with 3 adjustable intensity levels
Tablet
Yes, on holder
Voice command
Yes
Zero Gravity
Yes
Space Saver
Yes
Upholstery
Antibacterial ecological leather
Massage chair's net weight (kg)
90 kg
Power supply
220 - 230V
VIDEO Operating instructions:
Dimensions
Request an Instant Price Quotation via Email!
Speak with One of Our Massage Chair Specialists! ☟
Fantastic investment for anyone seeking a top-notch massage chair!
Clara Markus
The Focus 3 massage chair is simply amazing! It boasts very good quality and provides plenty of options to select a program that suits the time you have available and your body needs. The chair's versatility is impressive, allowing you to customize your massage experience to perfection. Whether you're short on time or in need of a longer session, the Focus 3 offers a wide range of programs to choose from. The build quality is excellent, ensuring durability and long-lasting performance. Overall, this chair is a fantastic investment for anyone seeking a top-notch massage chair with incredible options and exceptional quality.
The chair was delivered with care!
San San Ward
Hi Stephanie, The chair was delivered with care & consideration and the guys were very helpful. I used it this morning and it is working well with the heat pads! Many thanks for all of your help. Best Wished, San.
We are delighted. We love the new massage chair.
A Leslie
Just letting you know that we love the new massage chair. Dealing with our company has been a pleasure, good communication. And delivery was excellent, your guys were courteous and helpful and efficient. All in all we have say we are delighted with having dealt with your company.
Get Expert Advice on Choosing the Perfect Massage Chair!
Our massage chair specialists are here to guide you towards the perfect choice!