EVEREST FLEX II Massage Chair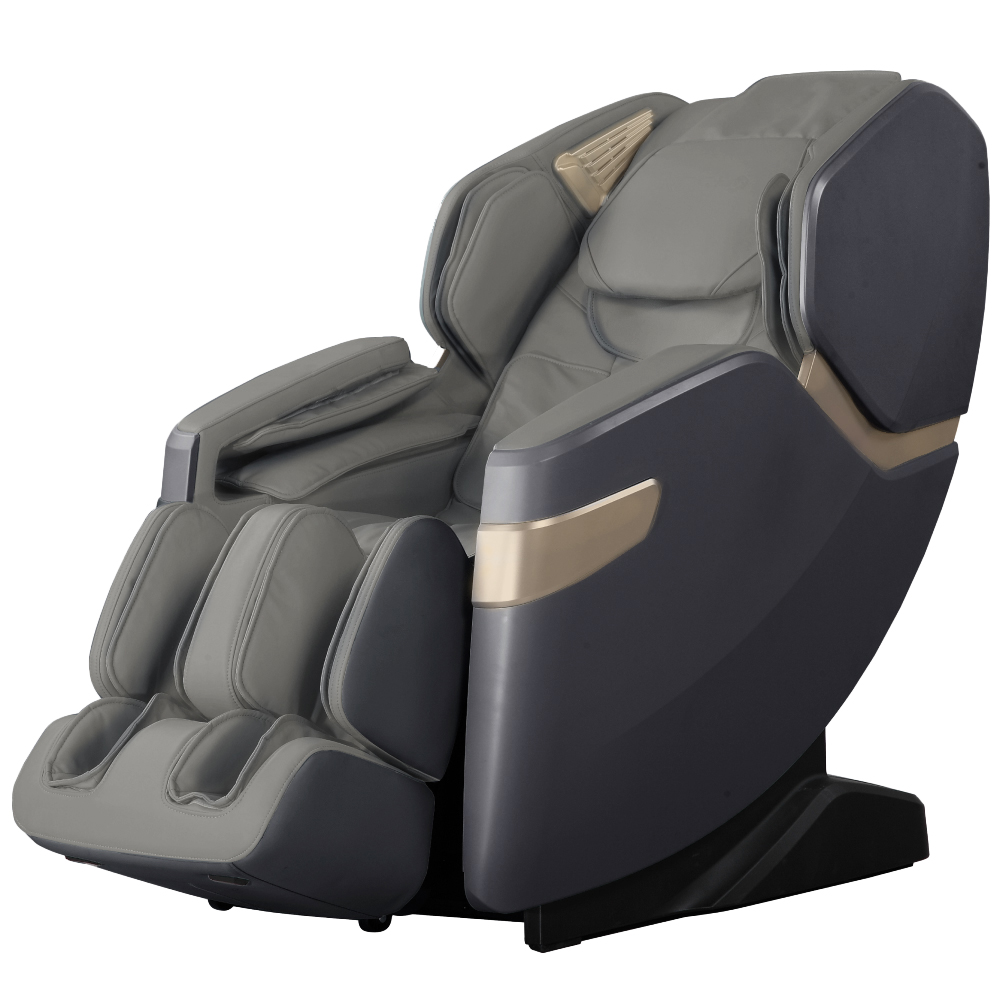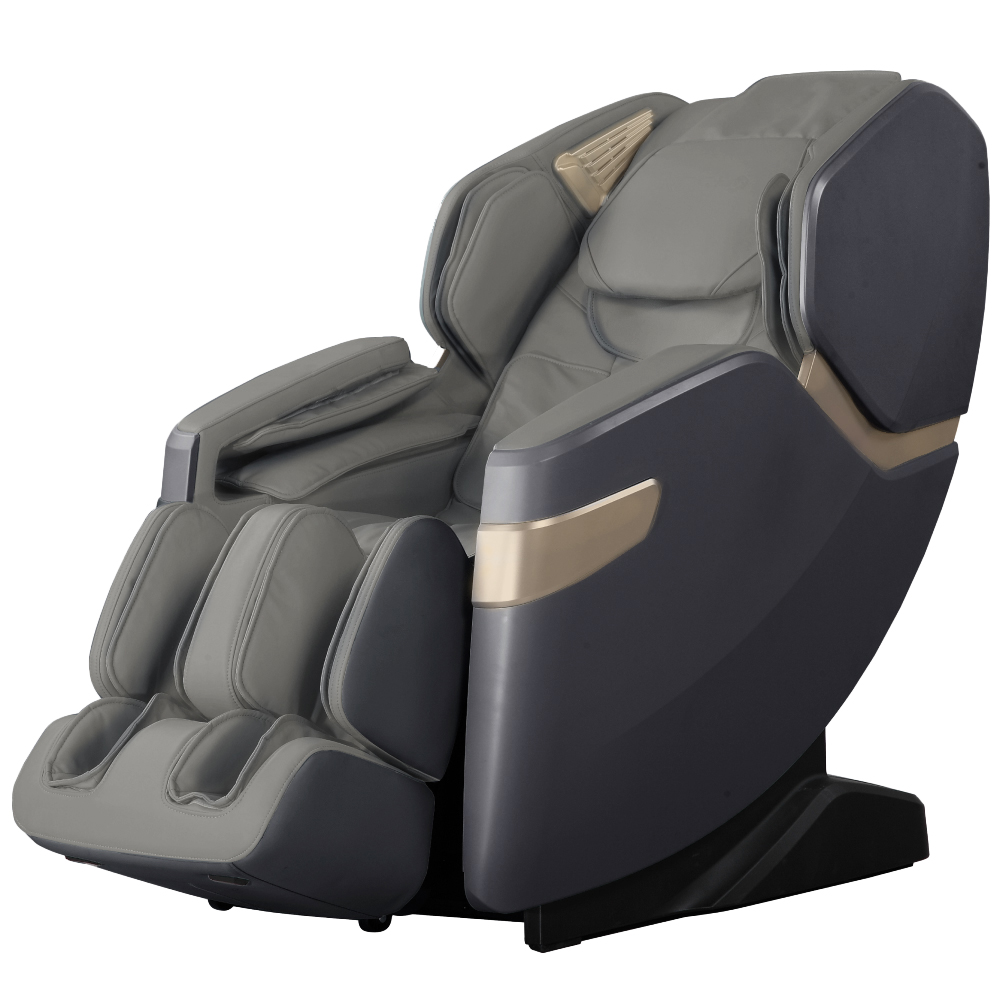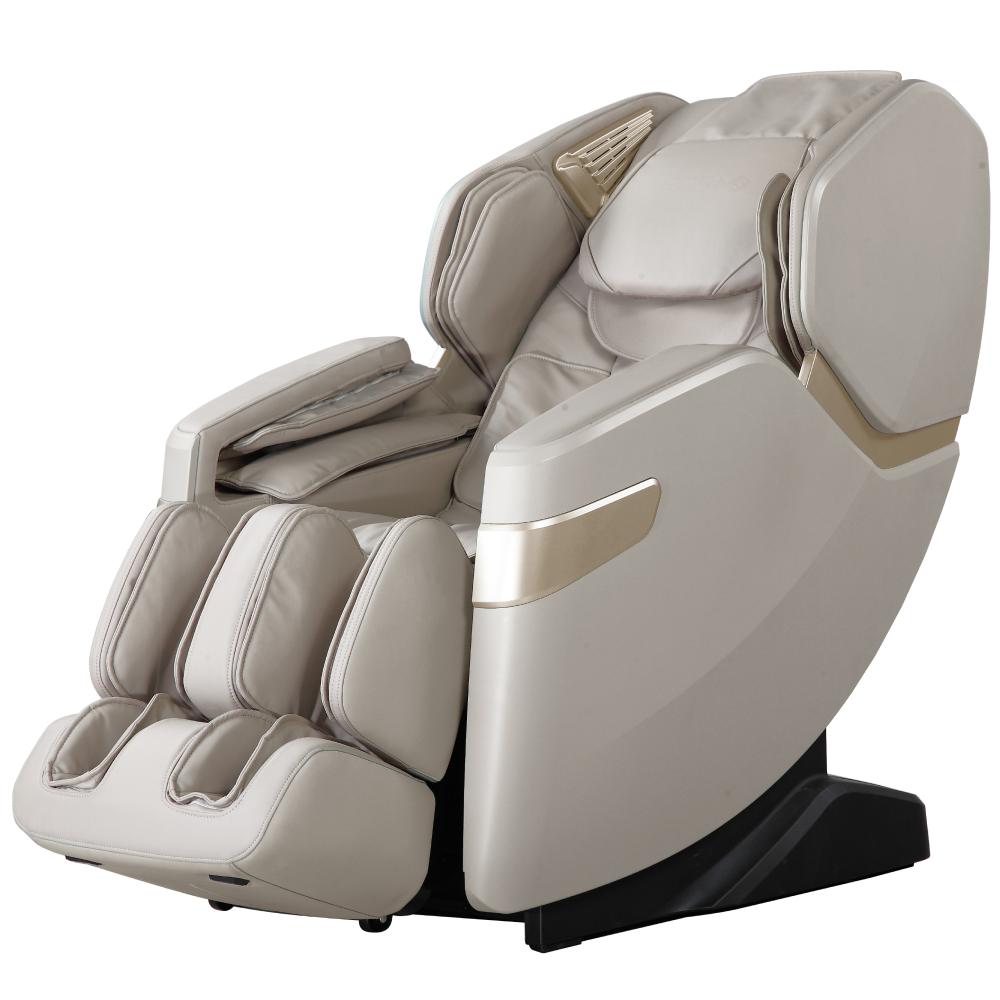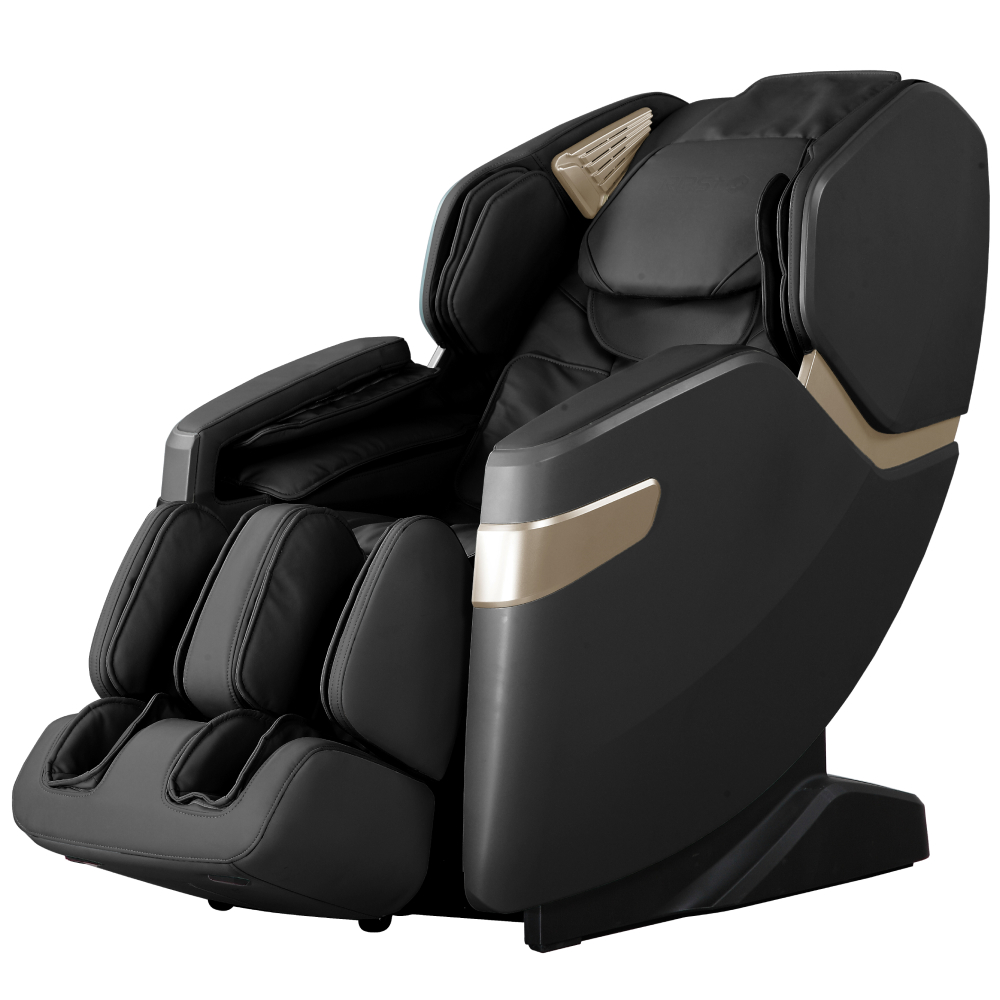 The massage chair that stretches and relaxes
The EVEREST FLEX II full-body massage chair is packed with innovative features that deliver the ultimate in relaxation and therapeutic massage.
11 automatic programmes for tailored massage experiences
Spacious seat and shoulder area — suitable for all body dimensions
Featuring our new FLEX164 technology
Soothing palm massage
The EVEREST FLEX II is Komoder's first massage chair designed to please people of all heights, shapes and sizes! This full-body massage chair is the best choice if you are up to two meters tall and 120 kilograms. Today's technology offers us a multitude of combinations and solutions, and EVEREST FLEX II focuses on a perfect back massage from the first cervical vertebra to the last sacral vertebra.
EVEREST FLEX II Massage Chair - Video Testimonial
The flexible curved-rail massage system
The crowning glory of the EVEREST FLEX massage chair is undoubtedly its FLEX164 technology. This groundbreaking innovation is a stretching massage feature that delivers the most relaxing and therapeutic experience yet. In addition, the new technology allows an angle of up to 164 degrees between the seat and the backrest.
FLEX 164 technology compared to an SL-curved massage chair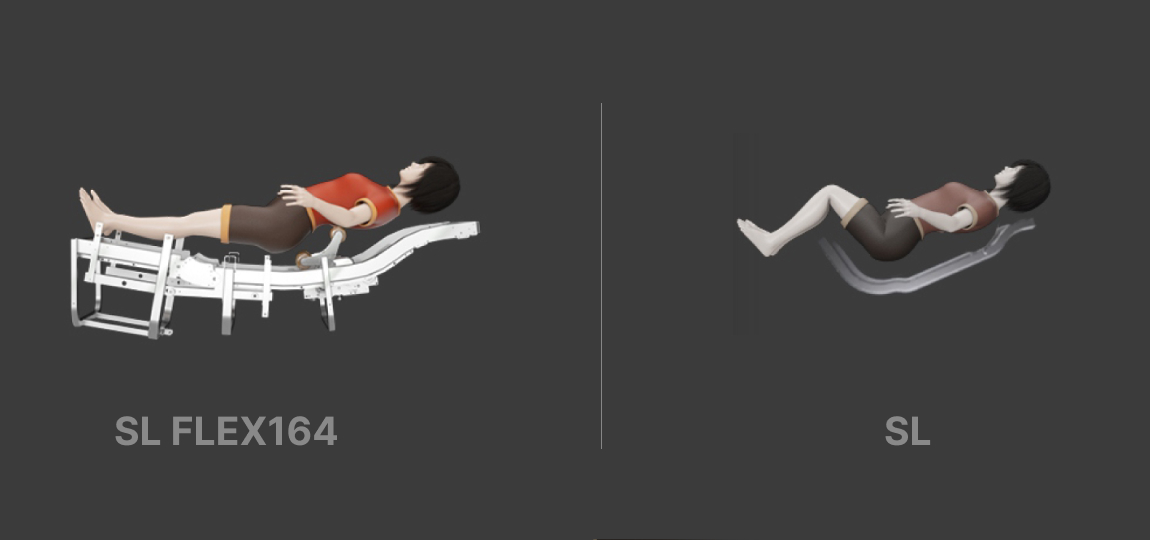 Personalizing your massage session
This versatile and flexible massage chair is easy to customize. Simply adjust the width of the massage rollers on three different levels. You can also adjust the speed of the rollers with five settings.
Automatic massage or fixed point massage
The EVEREST FLEX II massage chair offers fixed-point massage in three poses: a partially set massage, focused on the upper or lower back.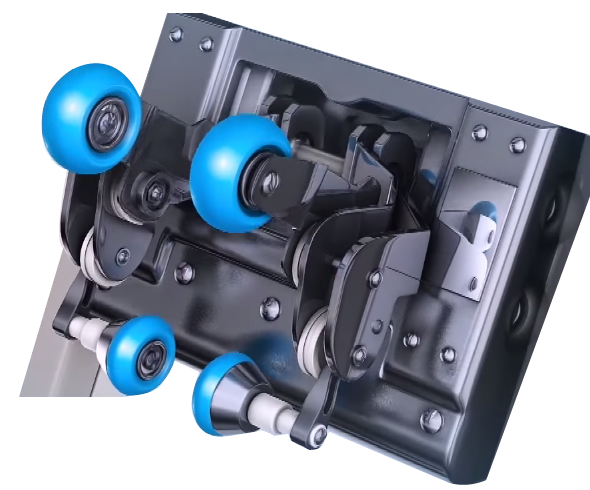 Massage airbags and heating system
Heat massage doubles its effectiveness, focusing mainly on the back.
Palm and arm massage
Palm massage is another essential function. The airbags adapt to the curvature of the arms, providing a total massage. This type of massage will relax and invigorate your arms and hands. The airbags in the shoulder area position put you in the perfect position for an effective paravertebral muscle massage.
Foot and calf massage
The footrest is also equipped with airbags for pressure massages.
Differently shaped airbags completely envelop the calf to give you an unforgettable experience. Activating the compression massage function to stimulate acupressure points will give your feet the TLC they deserve.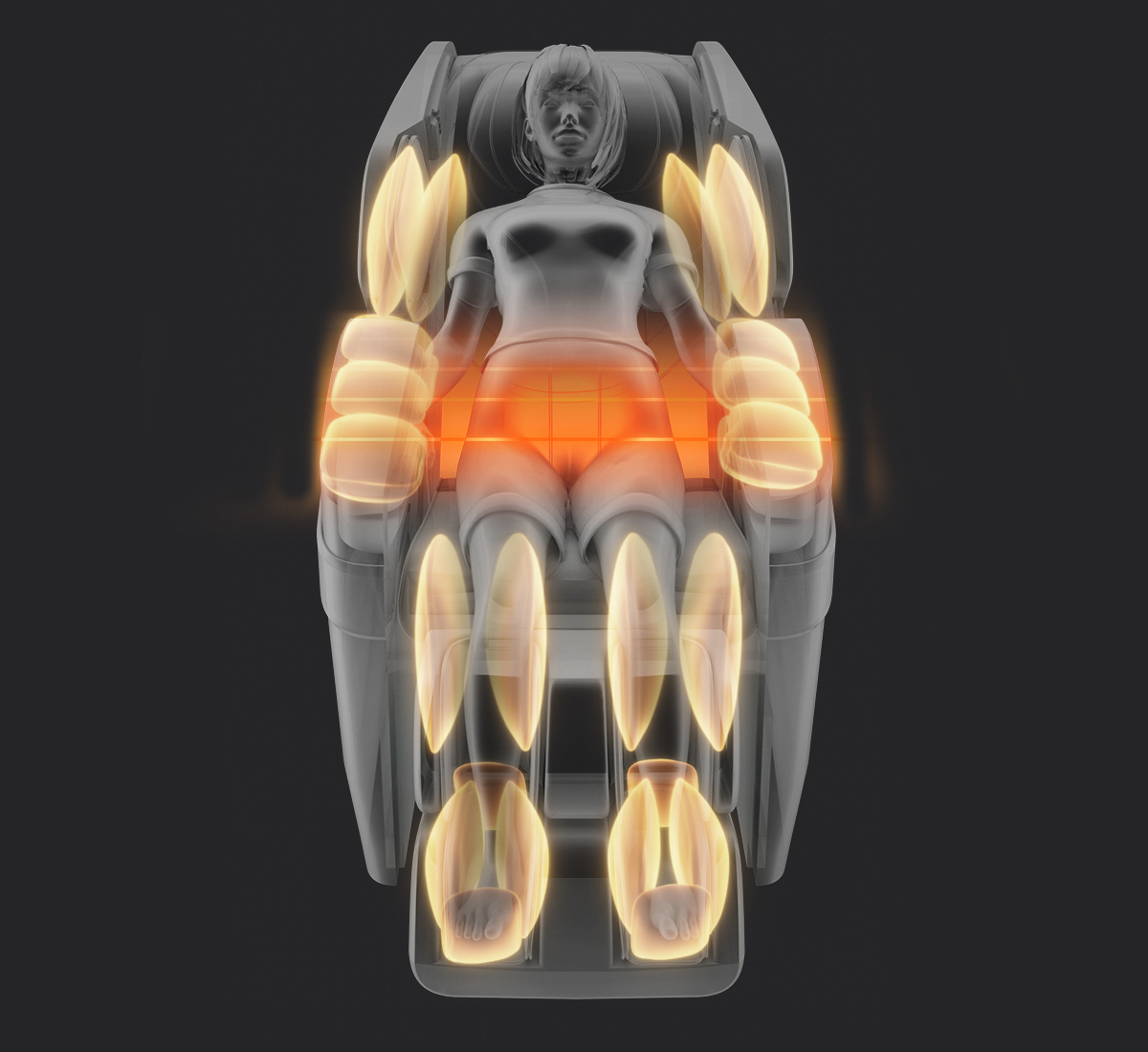 Calf support extension
The EVEREST FLEX II massage chair delivers extendable support of up to 20 cm!
Depending on the user's height, the calf support extends to a maximum extension length of 20 cm. This ensures a complete massage, tailored to the height of each user.
Reflexology for stimulating the nerve centres
Reflexology is a type of massage used to eliminate physical or mental fatigue quickly and efficiently.
The reflexology massage is performed using a plate equipped with rollers. At the same time, the calf support function expands to accommodate different heights of users. We recommend the reflexology function for people who suffer from leg pain or spend a lot of time on their feet.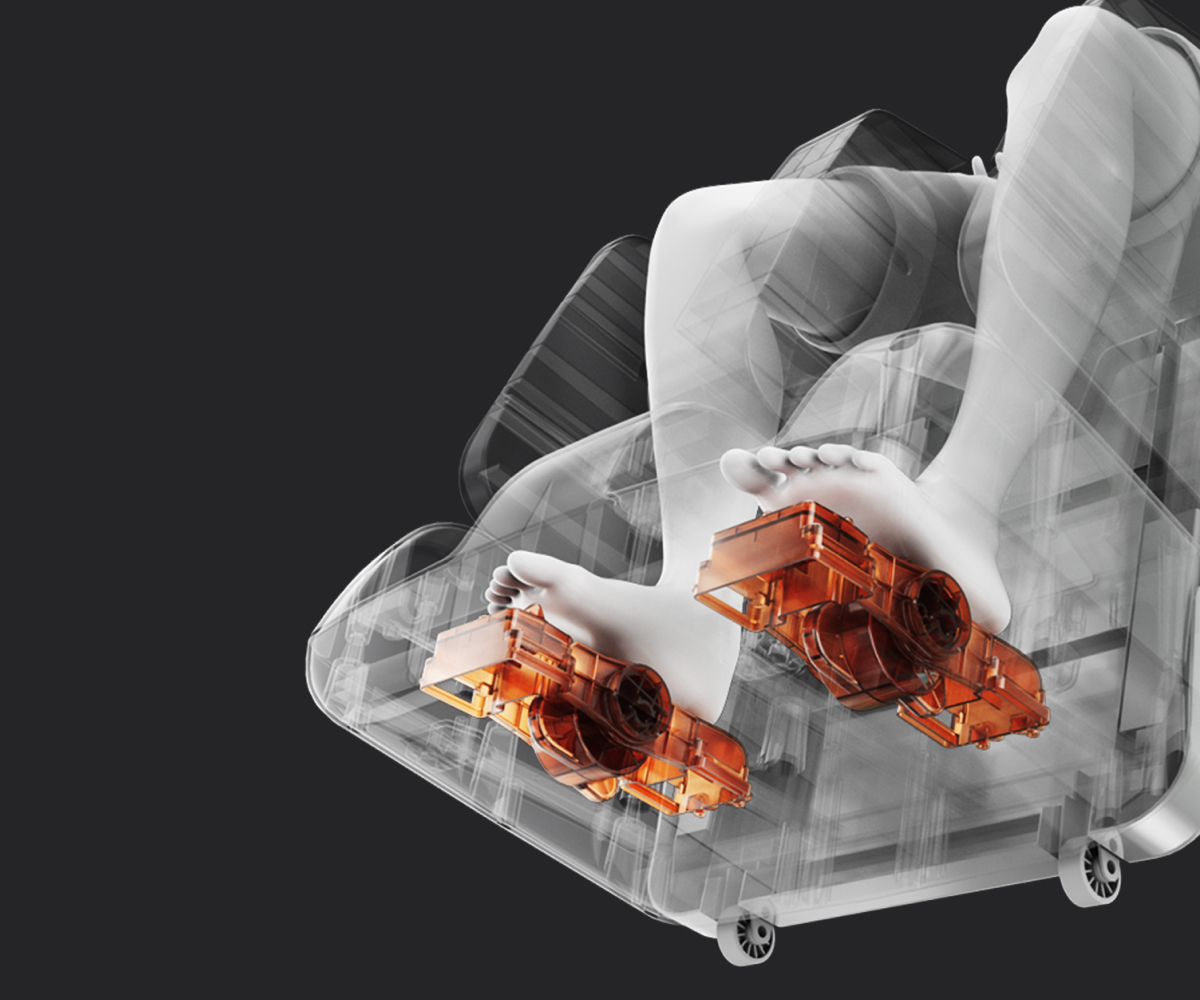 Smart scanning with a waist twist function
The automatic shoulder location system involves a preliminary scan of the user to detect their height and weight. This ensures the massage session is fully personalised.
The armchair has two sets of air cushions that help twist the waist — crucial for stretching and massaging and for improved waist mobility.
3D massage robot
The EVEREST FLEX II delivers precise scanning of acupuncture points. This versatile massage armchair is also equipped with a 3D massage function that delivers relief across your entire via the FLEX164 rail.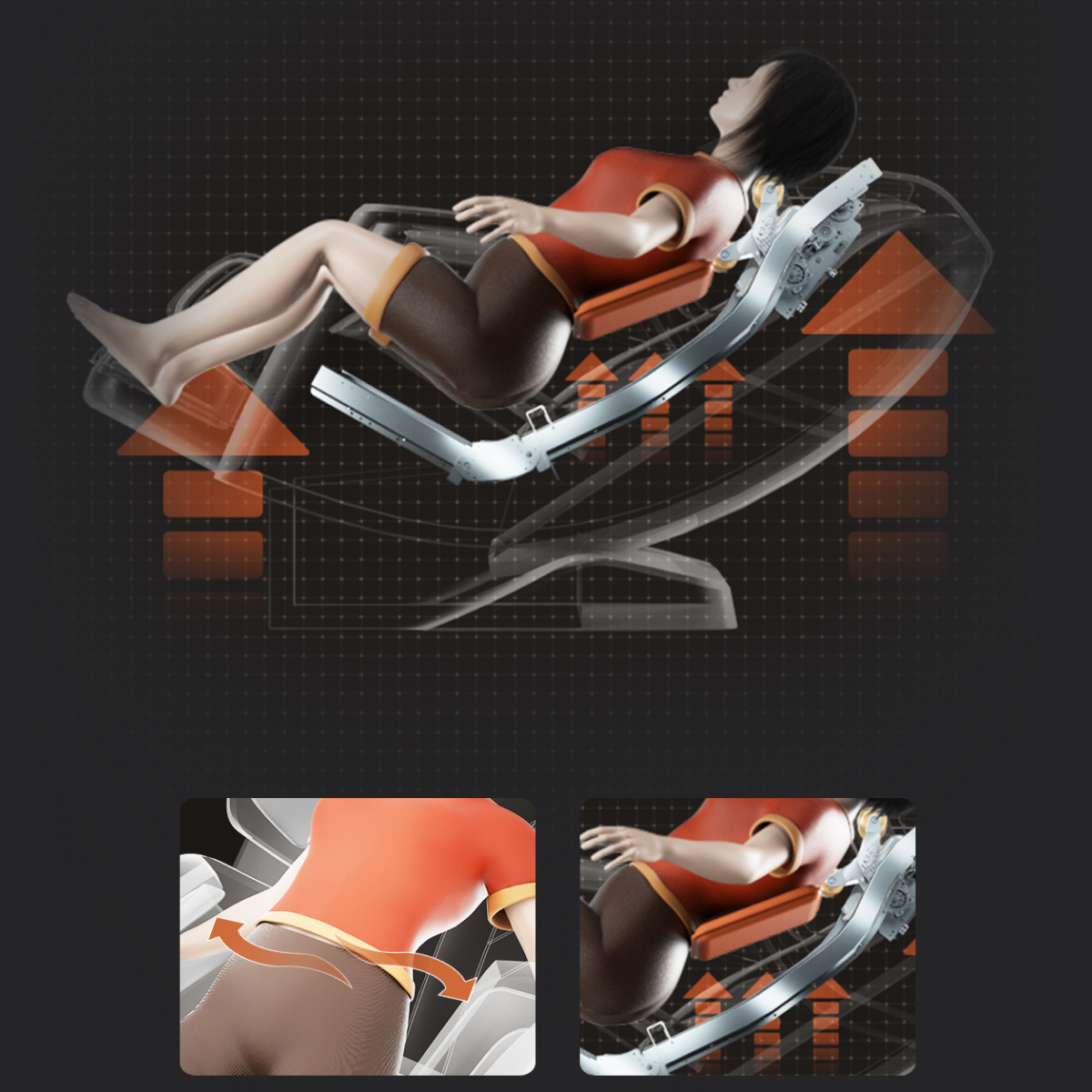 Remote control commands
The remote control that comes as standard with the EVEREST FLEX II massage chair is intuitive and easy to use. Use it to activate the massage rollers' airbags or select a new program or massage type.
Aesthetically pleasing and functional
The dynamic, ergonomic shape of this massage chair is designed to save space in relatively tight or small areas. As a result, this model is ideal for homes, apartments, offices and anywhere space is limited.
Zero Gravity massages
The Zero Gravity function on the EVEREST FLEX II will send you into a state of weightlessness — where you can enjoy perfect relaxation. The massage chair allows folding in Zero Gravity positions using two folding pistons. Zero Gravity is adjustable to three different angles and provides the floating sensation that astronauts experience when they enter space.
The massage chair is designed for small spaces. A distance of just 10 cm is needed from the back wall or object when the massage armchair is in operation. The EVEREST FLEX II will slide forward without touching the back wall.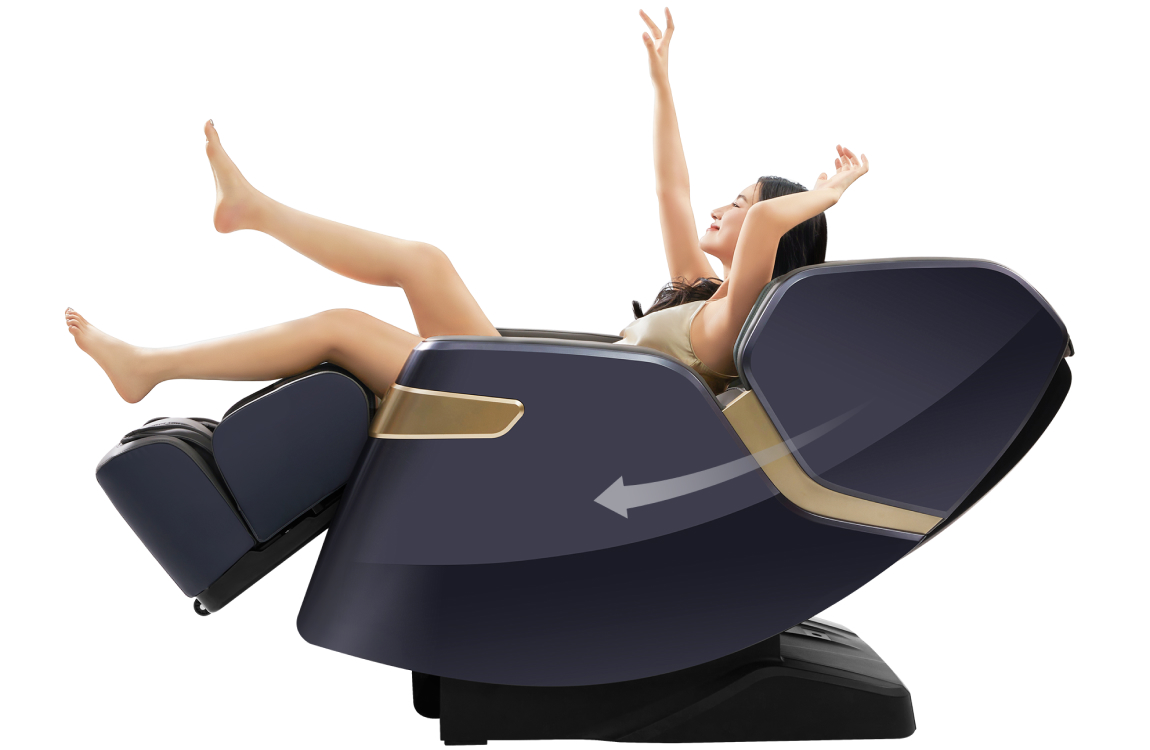 Built-in audio system
The in-built Bluetooth system provides the crispest sounds to accompany your massage session. Combining music and massage is a passport to a more relaxing destination!
Voice control system
Activate your favourite massage programmes or make subtle adjustments to your experience by using the quick control buttons located on the armrest.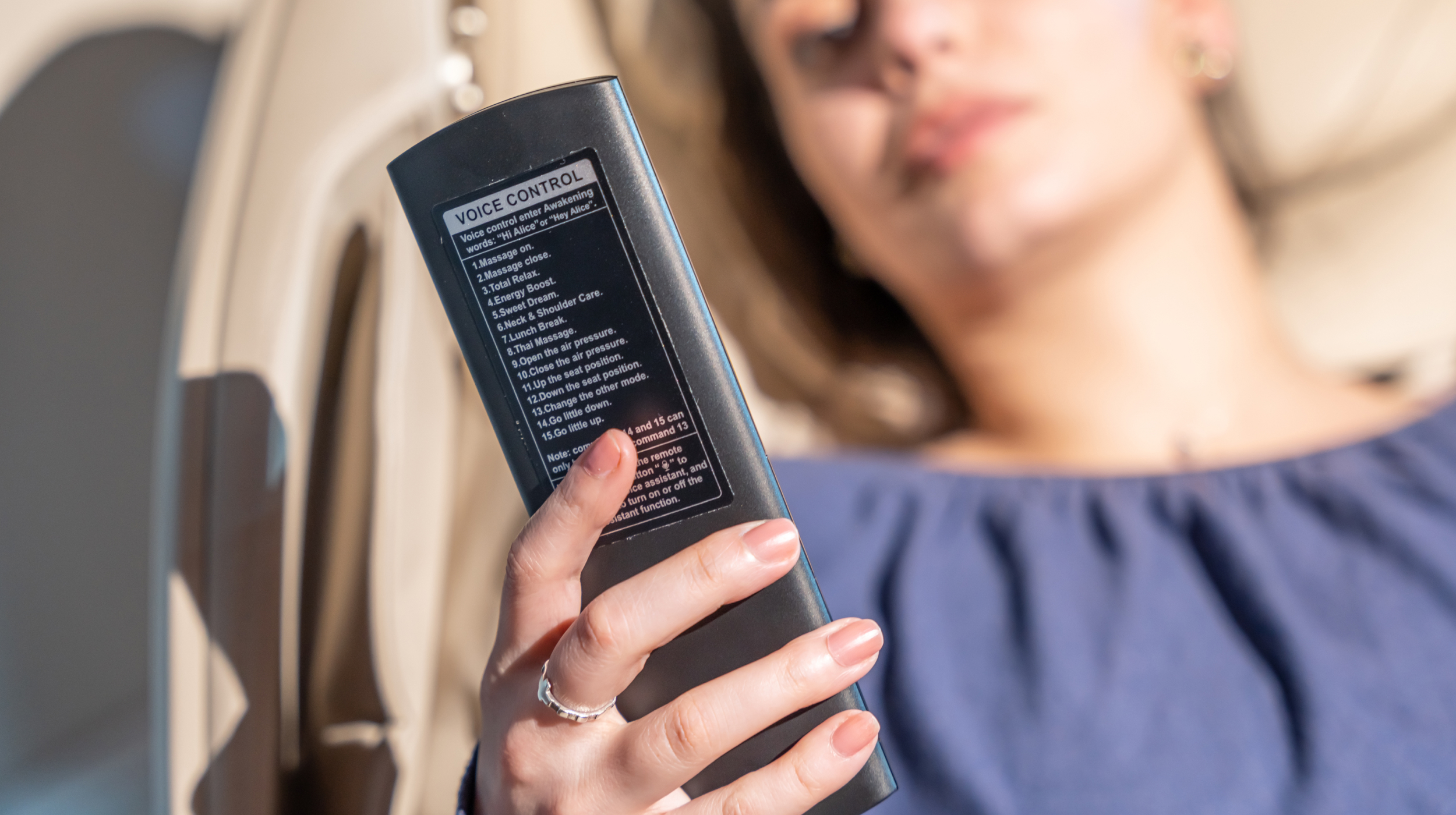 11 automatic massage programs:
Total Relaxation
Energy Boost
Pleasant Dreams
Neck and Shoulder Care
Thai Massage
Lunch Break
Muscle Relief
Body Balance
Whole Body Stretch
Spinal Alignment
Foot Care
6 massage techniques:
Kneading
Pushing
Kneading and light touch
Shiatsu
Light knocks
Stop
Timer
Yes
3D massage on the entire back surface
Yes. 137 cm SL rail
Fixed point massage function
Yes
Airbags intensity
Adjustable on 3 levels
Massage speed
Adjustable on 5 levels
Legrest
20 cm extendable
Lumbar area heating
Yes
Buttock massage
Yes
Calves massage
Yes
Reflexology
Yes. Adjustable on 3 levels
Remote control
Yes
Remote control pocket
Yes
Upholstery
Eco-friendly, antibacterial leather. EVEREST FLEX II is designed from environmentally friendly materials that are easy to maintain and clean
Weight (kg)
91 kg
Power supply
220 - 230V
Dimensions
Request an Instant Price Quotation via Email!
Speak with One of Our Massage Chair Specialists! ☟
Worth the money!!!
Eva
The massage functionality is truly impressive!
Loving the chair!
Samuel L.
Loving the Everest Flex massage chair! This chair has truly become a favorite in my home.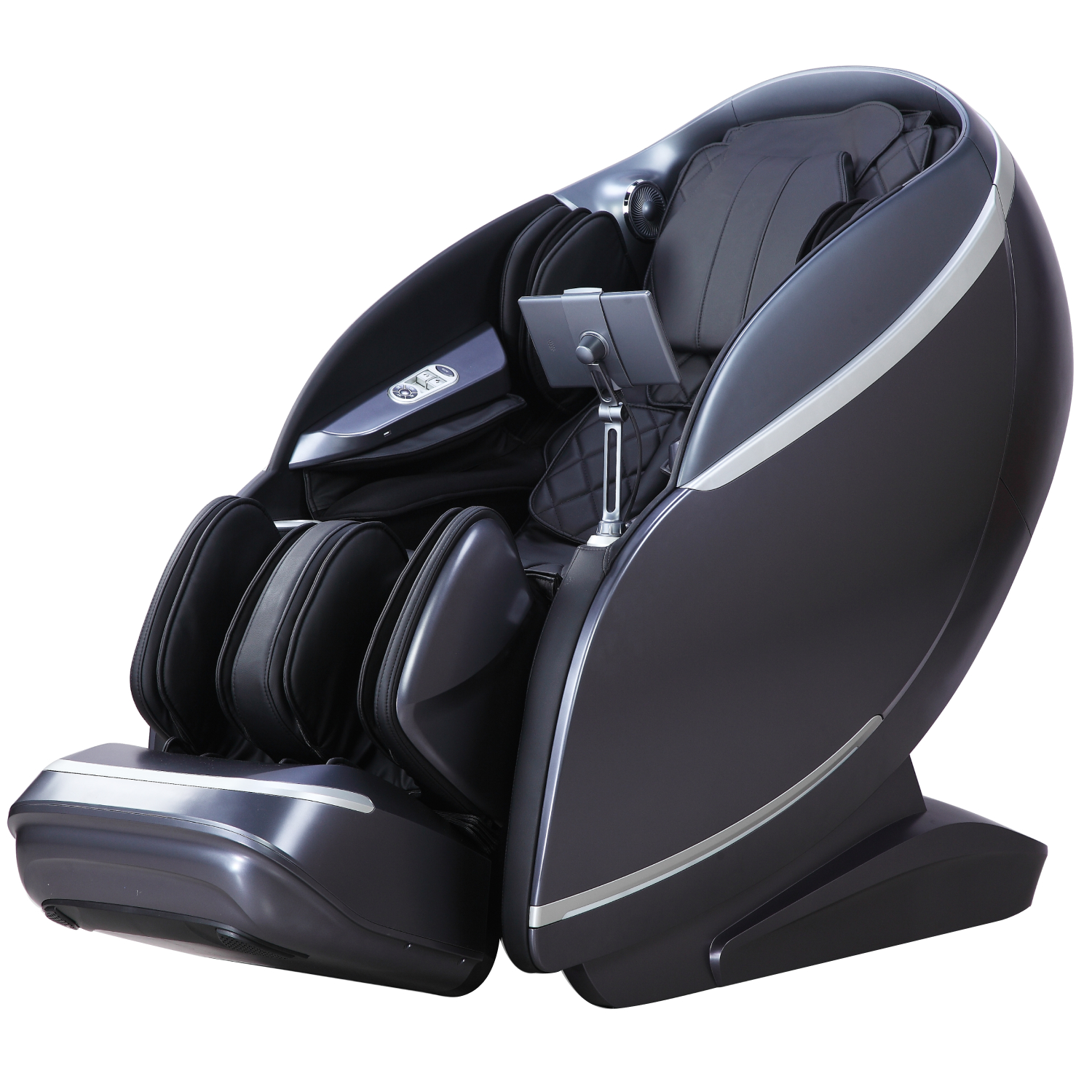 Therapeutix is ​​the latest KOMODER massage chair designed and executed after a thorough research of the human body. Fundamentally, this massage chair stores data and provides solutions to satisfy any type of user, elevating the massage to the next level.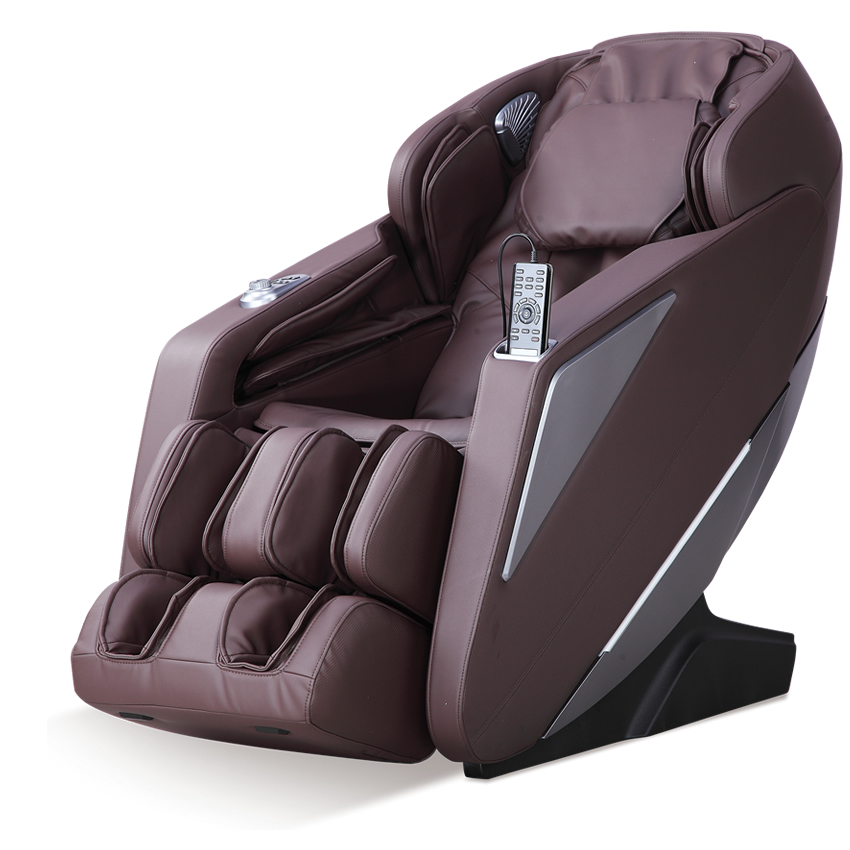 KOMODER VICTORIA 3D massage chair, 4 massage rollers, calf kneading, heating system, voice control, space saver, zero gravity, and Bluetooth connectivity
Get Expert Advice on Choosing the Perfect Massage Chair!
Our massage chair specialists are here to guide you towards the perfect choice!