Luxury Massage Chairs: Top 3 massage chairs in UK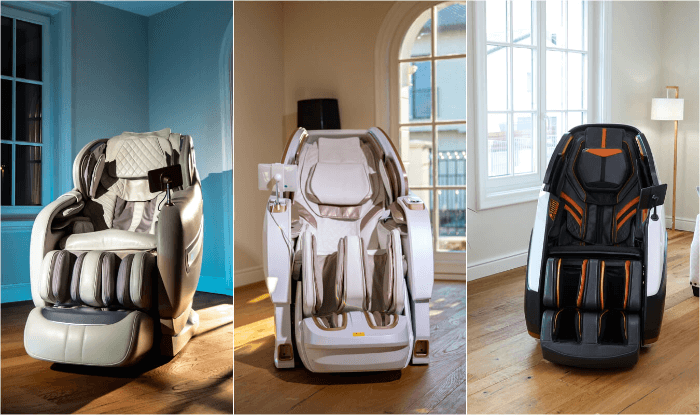 There's only one thing more luxurious than a stress-relief massage - and that's having luxury massages on demand, whenever you want them, with your very own luxury massage chair.
Forget paying hundreds of pounds at a time for massages to ease pain or to unwind from the week - a massage chair delivers expert relaxation right in your own home or workplace.
So, where do you find your own lux massage chair? The number one place to view, experience and discover your perfect massage chair is at our luxury massage chair showroom in London. Full of everything from entry-level massage chairs to the most high-end on the market, here are our picks for three of the very best luxury massage chairs for stress and pain relief right now.
The Komoder offer includes several models of massage chairs, with various functions, which offer different types of massage and are part of different price categories. But many of our clients want to know which is the best massage chair. For them, we created a top 3 of the products, based on several criteria.
Titan II Massage Chair
TITAN II - The only massage chair with two independent SL rail massage systems. The precise scanning system, the 8-inch tablet, the fast wireless charging for your phone and the 24 automatic programs make TITAN II the most performing massage chair at the moment.
It offers 6 massage techniques, each with 5 levels of intensity - shiatsu and 3D shiatsu, kneading, knocking, synchronous and tapping. And, for complete relaxation, the Titan II includes Bluetooth connectivity and incorporates 4 speakers, allowing you to listen to your favorite music while enjoying a professional massage.
And these are not the only features that make this product one of the best Komoder massage chairs. For more information, open Komoder Titan II.
Luxury II 4D Massage Chair
Luxury by name and luxury by nature, this massage chair offers a relaxing full body massage from your upper body right down to your feet, as well as luxurious heating for your back from the rollers in the seat, and for the feet. It also boasts eight rollers to the chair - more than most massage chairs have - and a huge 22 massaging airbags which configure into six positions. The features don't stop there: this lux massage chair offers a specially designed sleep position and internet connectivity, too.
LUXURY II is the only massage chair that comes with a 4D Roller Massage Robot with 8 Rolls on a Super Long Rail and monitoring system for pulse, oxygen level and microcirculation.
Real-time health monitoring and information has revolutionised the market for this type of product, so Luxury II has immediately become one of the best massage chairs.
In addition, LUXURY II comes with two other major advantages. The first is the zero gravity position, ideal for complete relaxation, in which the thighs and calves are at the same horizontal level as the shoulders. The second big advantage is the smart space-saving function, the seat is designed for small spaces - it requires a distance of only 5 centimetres from the back wall when in operation.
PRIME Massage Chair
When you picture a truly luxurious massage chair, the Prime massage chair is probably what comes to mind. This high-end model delivers superior full-body massages through 38 double airbags which configure to seven positions, heating for your back and legs and 12 distinct wellness programmes, designed to take your wellbeing all the way from first thing in the morning to relaxing last thing at night.
PRIME is the first massage chair to use technology with two distinct intelligent mechanisms (for the sitting area and for the back area).
Prime offers 6 massage techniques that address the whole body: neck, shoulders, shoulder blades, waist, chest, feet and soles.
This massage chair also impresses with its design, adding style to any room. High quality premium materials, uniquely designed pillows, elegant joints, make this model a suitable choice for those who care not only about comfort but also the appearance of their home. This massage chair offers other advantages that make it one of the best Komoder massage chairs. For more details, open Komoder Prime.
Head to Komoder, the UK's leading luxury massage chair seller, to find the perfect high-end massage chair for you by browsing the full range in the UK and to arrange a visit to the London showroom to experience them for yourself.