Who hasn't yearned for a relaxing and rejuvenating massage after a tiring day at work?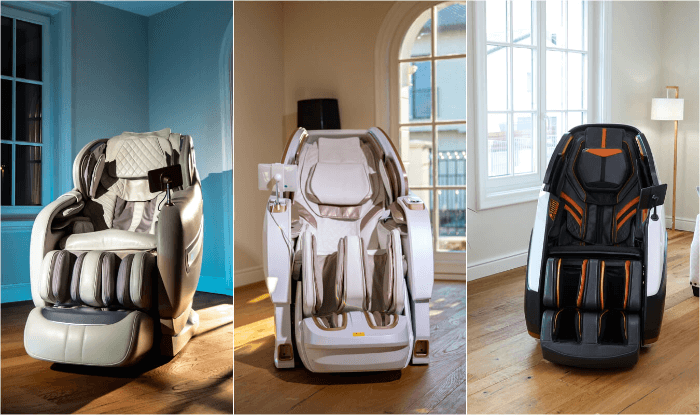 Relax your body in one of our massage chairs and embark on a journey beyond your physical self. Forget about neck pain, foot aches, and unwind from the comfort of your home with just the press of a button. Skip the hefty spa prices and enjoy a professional therapy at an affordable cost by choosing from our selection of the best massage chairs with various techniques, such as vibration, rolling, kneading, pressing, and heating.
With our advanced electric massage chairs you'll have full control over the different programs and intensity of your massage, thanks to the chair's settings and options.
The best way to relieve muscle pain
If you're someone who enjoys massages for pain relief after a long day at work or a sports session, you're probably aware of how expensive it can be, with an average cost of 75€/hour. At Komoder, we understand that purchasing a full body massage chair is a significant investment, so we've developed a range of products that cater to all budgets and needs, allowing you to pay once and have massages on demand. In this article, we'll introduce you to our four best massage chairs of 2023: Titan II, Luxury II, Veleta II, and Prime.
Which are our best massage chairs?
Titan II

TITAN II is our most performing massage chair. It offers 6 massage techniques, each with 5 levels of intensity - shiatsu, kneading, knocking, synchronous and tapping. Moreover, it includes Bluetooth connectivity and 4 speakers, allowing you to listen to your favorite music while enjoying your massage.

Luxury II

If you want to buy one of our best massage chair for pain relief, additional heating functions can help you in a very natural way. You shouldn't only consider massage chairs with heating features, but also look at the particular areas of the chair which are heated (for example, if you walk all day, you may look for a heated chair that heats your calves or feet, like the LUXURY II model).

Heated massage chairs are our best massage chairs because they increase blood flow to your most tense areas and help you to ease more effectively muscle pain. LUXURY II is the only massage chair equipped with a 4D massage robot, using 8 rollers on an Extra Long massage rail. It is revolutionary due to its real time monitoring and information on the user's state of health (pulse, Oxygen levels and microcirculation monitoring system) and has two Zero Gravity modes.

Veleta II

The anti-gravity function is also available on VELETA II which offers you a position that will simulate the state of weightlessness. Thanks to "Zero Gravity", our best massage chairs put your thighs and calves at the same level, horizontally, with your shoulders. The gravity center of your body changes and the gravitational force will be evenly distributed over your body. This is the ideal position for a massage. Also equipped with a user scanning program, VELETA II is designed to satisfy even those with heights over 1.90 meters. The back of the chair adjusts, and the massage robot goes up and down far enough to perform an exceptional cervical or lumbar massage.

Prime

Finally, the 3D massage mechanism of our last best massage chair called PRIME is designed for deep tissue and works in conjunction with the specialized mechanism for the waist and buttocks. This synchronized massage allows you to enjoy a four-handed massage, performed by two professionals simultaneously. Its heating system doubles the effectiveness of the massage, stimulates blood circulation, reduces pain and muscle stiffness.
Do the massage chairs take up a lot of space?
In addition to their very attractive price, our best massage chairs models are easy to use and designed for small spaces, therefore, requiring only 5 cm from the back wall, while the chair is in function. In any case, our experts are available to answer your questions, so don't hesitate to contact us.
At Komoder we have a variety of premium quality massage chairs to help you relax and forget about neck, back and foot pain »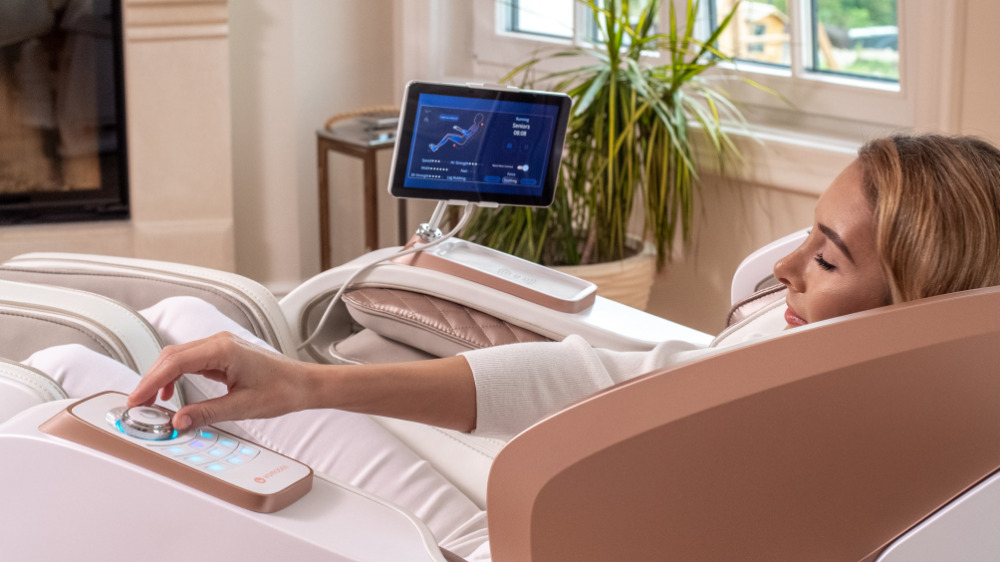 There's only one thing more luxurious than a stress-relief massage: luxury massages on demand, whenever you want them, with your very own luxury massage chair »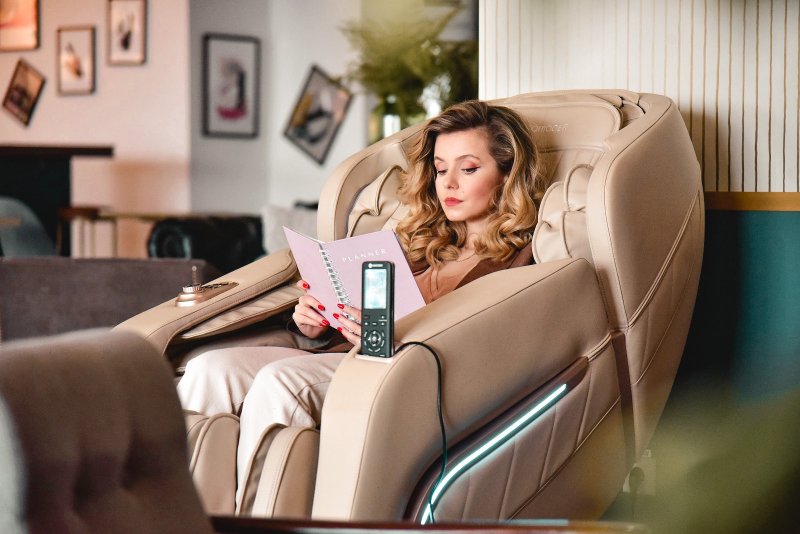 For many, having your own professional massage chair at home is the dream life upgrade »