Best Back Massagers in the UK (2023)
A typical workday can put your back through a lot. Between the long hours sitting at your desk and the various tasks and chores that require driving or lifting, a painful back is nothing we haven't all experienced. In fact, four in five adults report experiencing lower back pain at least occasionally, and the issue is one of the most common causes of missed work days and job-related disability. Massage therapy offers amazing results. However, the cost of professional massages can add up quickly. That's where back massagers come in. For the same cost as a couple of sessions with your therapist, a back massage machine provides instant and unlimited relief. Here's what you need to know about the best homedics solutions to combat back and neck pain.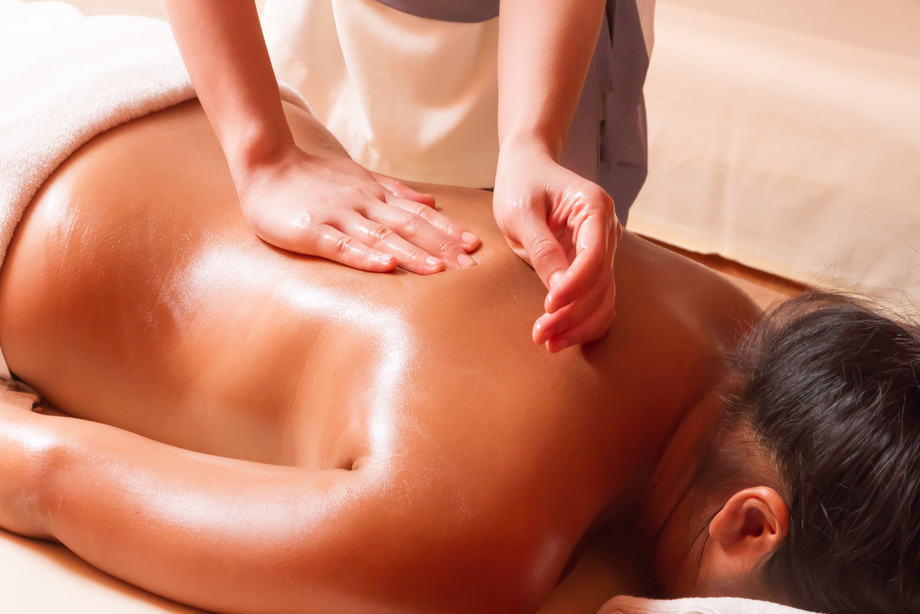 How to Choose the Best Back Massager?
There are several types of back massagers, so selecting the ideal one to suit your needs may seem like a difficult task. The good news is that every device fits a specific purpose, which should help you narrow it down. From small, handheld back massage machines all the way to full-size massager chairs, each one is designed to let you experience the benefits of one or several types of massage therapies.
Percussion Massager
Percussion massagers are recommended to help with muscle recovery and are a must-have for every sports enthusiast. This simple device relies on vibration to recreate a pummelling massage.
Trigger-Point Massager
Also known as "spot massager", this model is designed to target specific spots in the muscles and ease the tensions that radiate from them. This feature is often delivered in the form of a convenient attachment that makes it compatible with various types of machines.
Shiatsu Massager
As the name indicates, Shiatsu massagers offer the same benefits as traditional Japanese massage therapy. These devices use circular motions to deliver a deep, kneading massage that excels at releasing chronic tension, easing painful knots, and improving circulation. If you're prone to stress-related back pain, this is the one for you!
Massage Chair
Massage chairs deliver an all-in-one massage experience and offer a variety of settings for a personalised, full-body massage. They combine all the benefits of portable back massage machines and even allow you to enjoy techniques that handheld devices can't achieve.
If you're interested in Swedish massage, for example, go for a back massager that features a rolling massager option designed to mimic the effects of the Swedish technique. This relaxing practice stretches and softens the muscles along the entire length of the back and thighs through deep, gliding movements. It is difficult to recreate in a portable massager. Yet some massage chairs offer high-quality Swedish massage programs.
Pair Your Back Massage Machine With the Right Accessories
For a well-rounded massage experience, you can use accessories in addition to your back massager.
Neck Massager
A good-quality neck massager is a perfect companion to your back massager or massage chair. The D181 model, for example, is a portable massage belt you can bring with you anywhere you go. Designed to loosen your neck and shoulder area, it features massage rollers, heating elements, and adjustable intensity. You can even use it to ease lumbar pain.
Foot Massager
Get all the benefits of a spa-worthy foot massage therapy session with a Komoder foot massager machine. This unique machine offers several automatic programs and relies on reflexology to induce instant relaxation.
Leg Massager
Whether you're on your feet all day or have a sedentary occupation, a leg massager can provide some much-needed relief by soothing your muscles or boosting your blood circulation. A clever combination of airbags and rollers delivers a relaxing and refreshing experience.
Eye Massager
If you're experiencing frequent migraines or having trouble sleeping, an eye massager could be your solution. Our C58 model even features an audio function and heating element.
What Is the Difference Between a Back Massager and a Massage Chair?
A back massager is usually a portable device designed to help with neck and back pain. You can use it at home or on the go to help your muscles relax.
A massage chair, on the other hand, is an all-in-one machine that offers a complete, full-body massage experience. You can use it at home to enjoy the deep tissue treatment your muscles need if you are prone to chronic back pain.
Komoder offers a range of full-body massage chairs at different price points. The best models are exclusive pieces of professional-quality equipment that you may have used at your therapist's office. With their flawless design and advanced functionalities, these beautiful massage chairs elevate your home's aesthetic.
The TITAN II Ultra High-End Massage Chair sports the latest massage technology, 8 massage rollers, and a double 3D massage robot mechanism.
The VELETA II is a 4D massage chair with 23 automatic programs and 11 massage techniques. And if you're looking for a heated massage chair, the Deluxe version of the VELETA II, the MARINA MEDICAL II, or the VICTORIA II massage chairs will provide the relaxing experience you're looking for.
FAQ
Are back massage machines good for your back?
Back massage machines are an excellent way to ease back pain and promote relaxation. They are portable and easy to use, and can do wonders for a sore back. If you're looking for a professional-quality massage, however, your best bet is a massage chair.
Are massage machines good for the body?
Massage machines are full of benefits. Massage chairs, in particular, are marvels of technology that go well beyond what a regular back massager can provide. They help deal with back pain, stress, anxiety, poor blood circulation, sleep disorders, and more. The best models are on par with what the most talented chiropractors can achieve and will leave you feeling refreshed, relaxed, and ready to tackle the day ahead!
At Komoder we have a variety of premium quality massage chairs to help you relax and forget about neck, back and foot pain »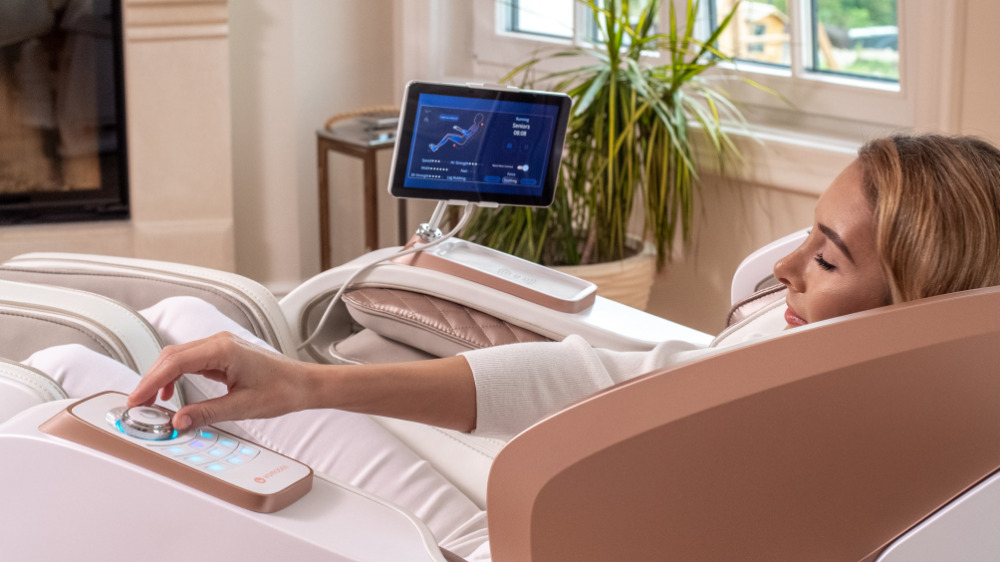 There's only one thing more luxurious than a stress-relief massage: luxury massages on demand, whenever you want them, with your very own luxury massage chair »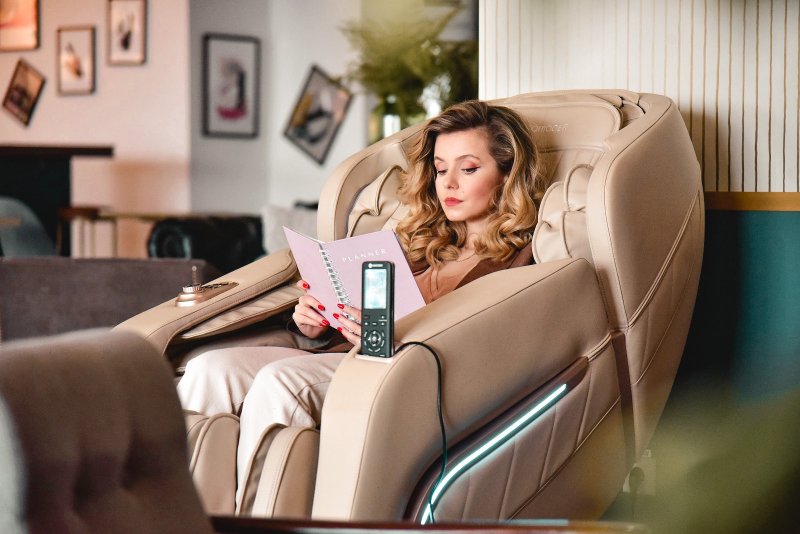 For many, having your own professional massage chair at home is the dream life upgrade »